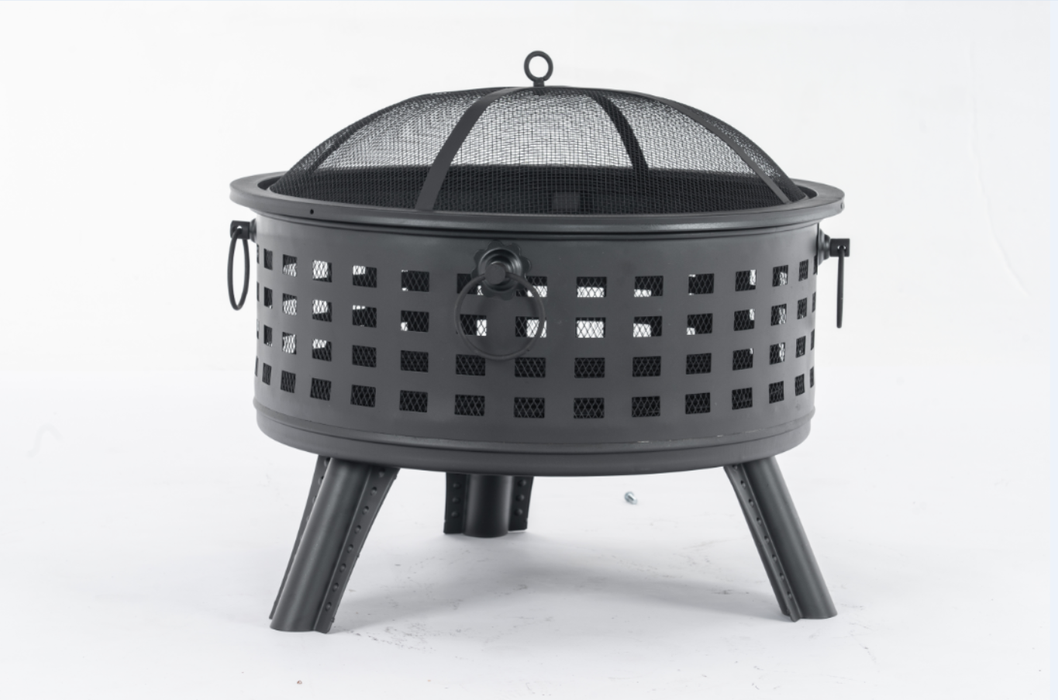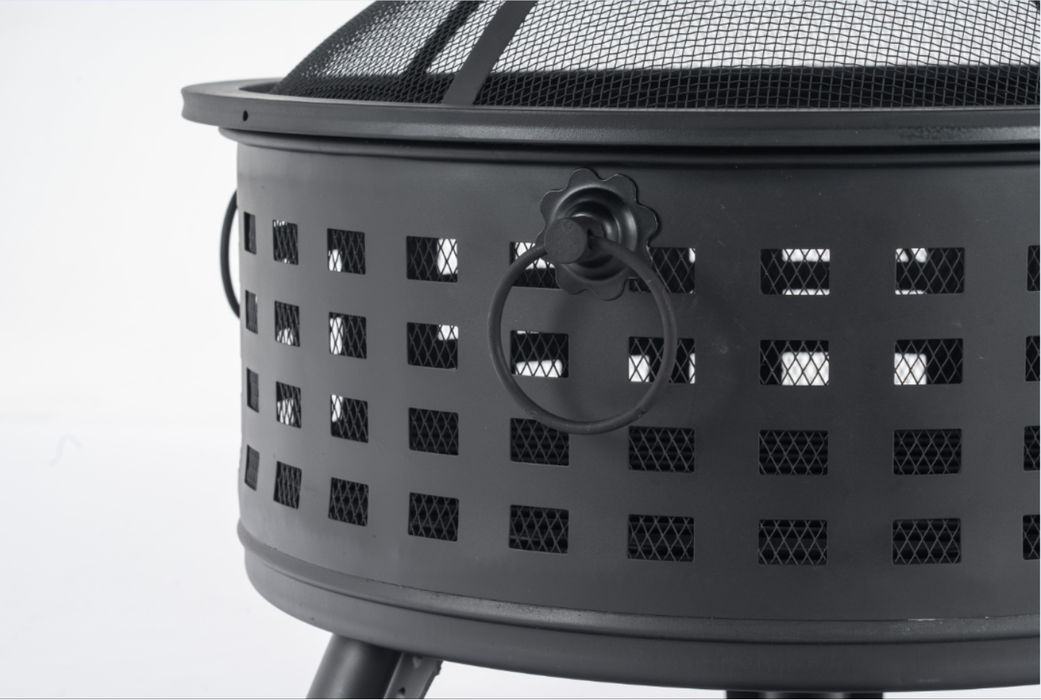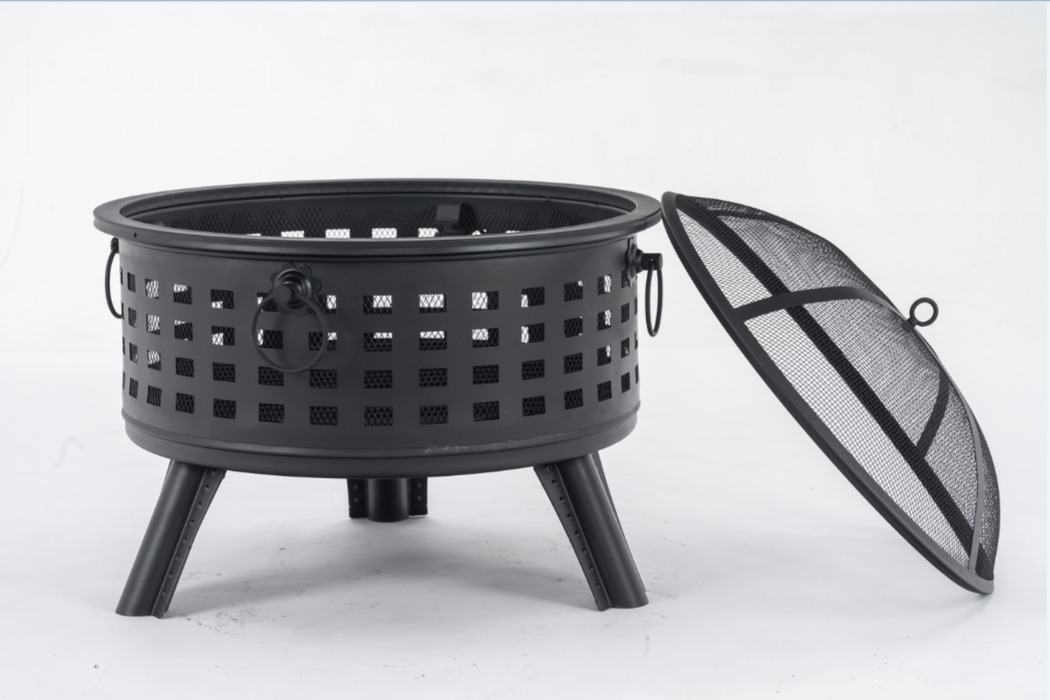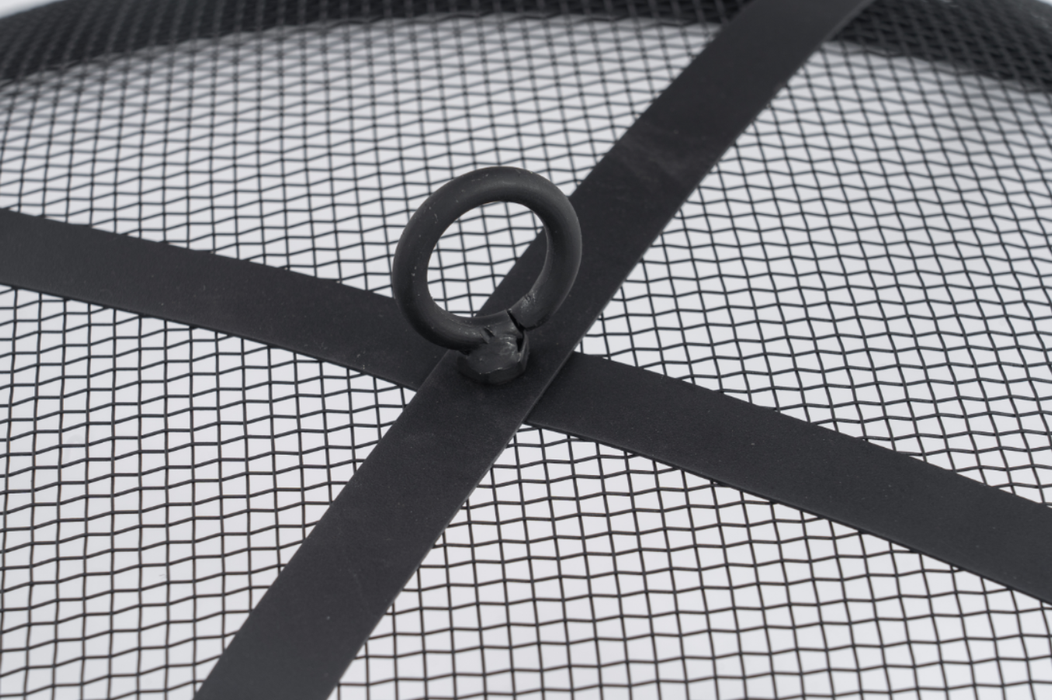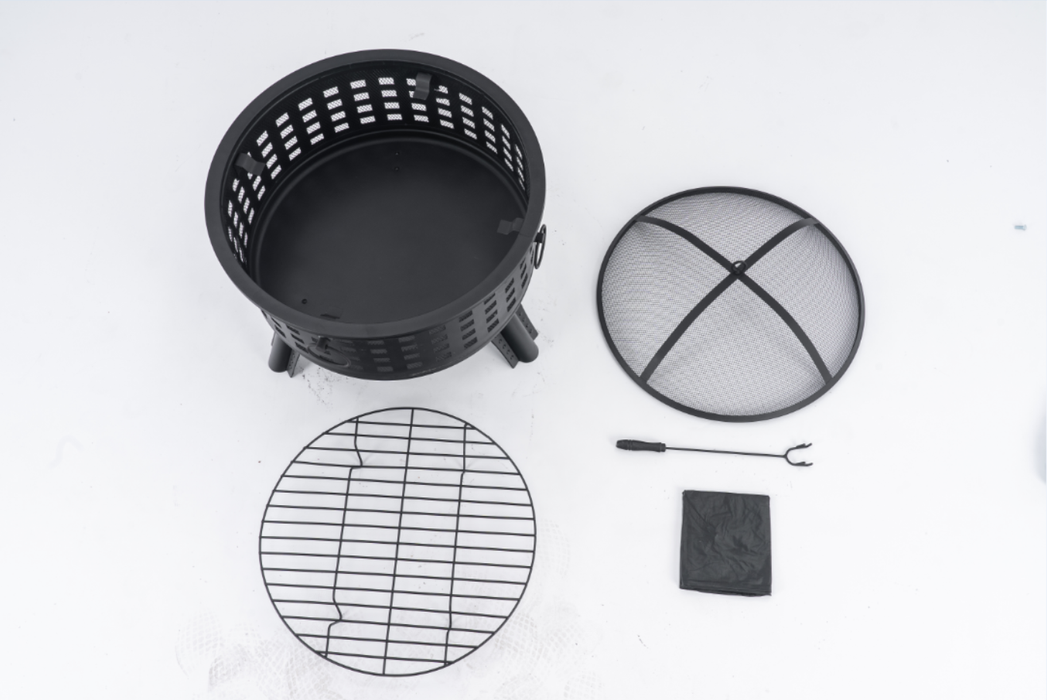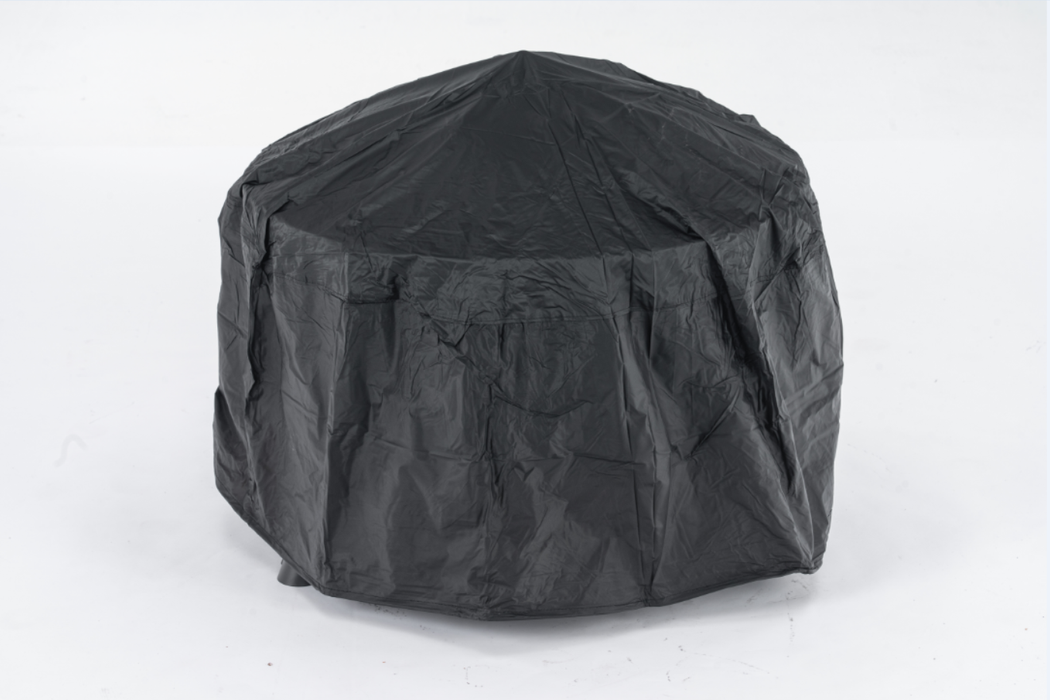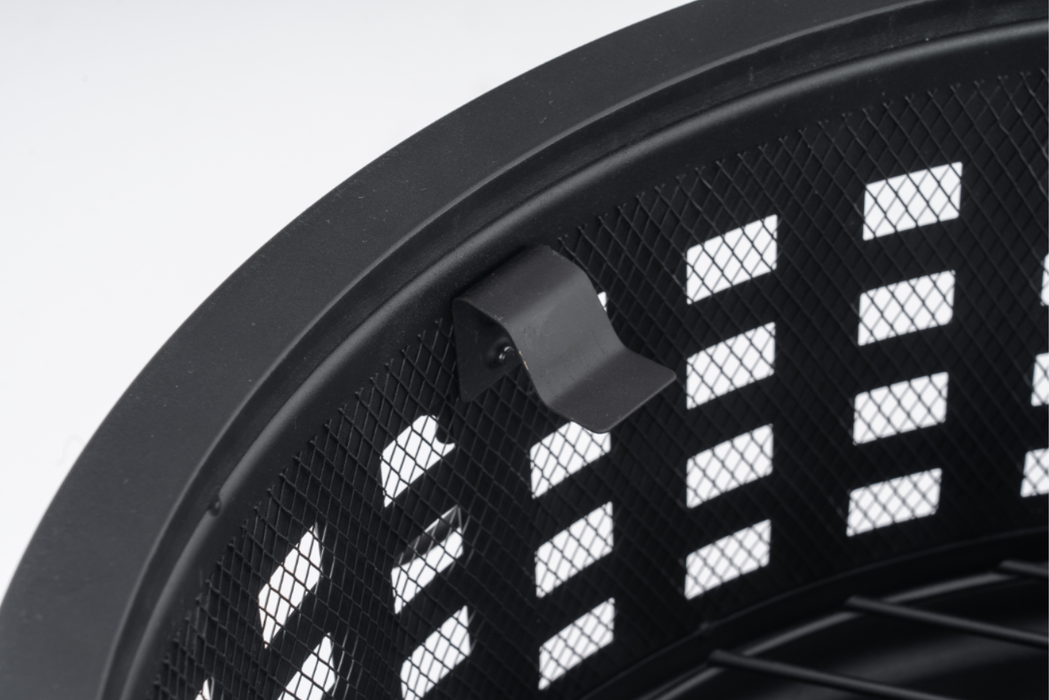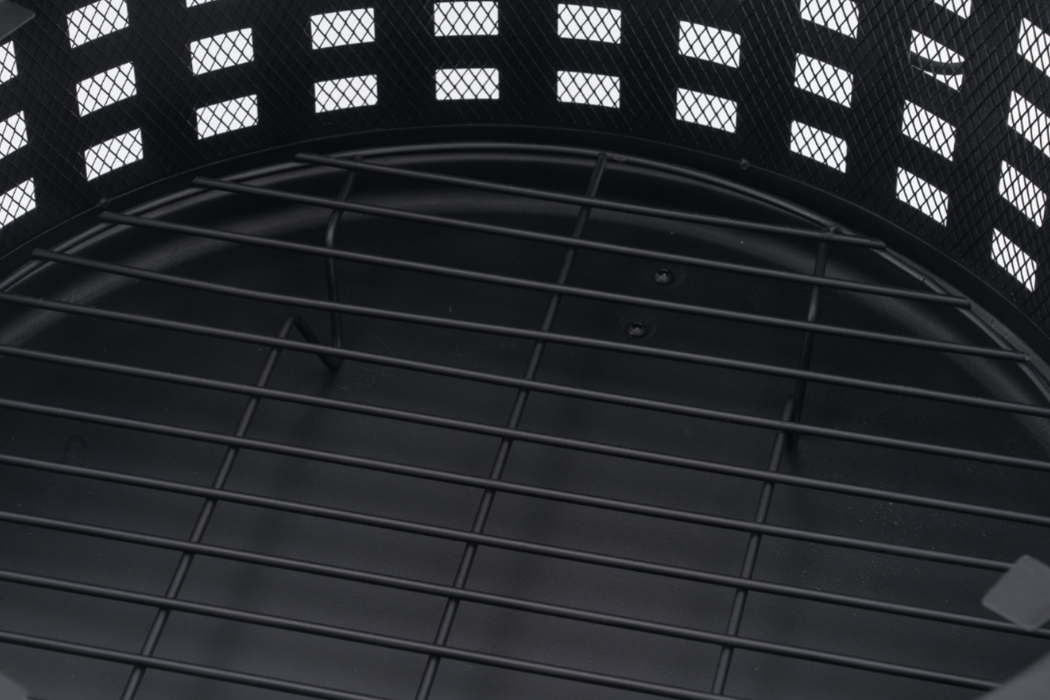 MCombo 26" Metal Black Fire Pit Round Table Backyard Patio Terrace Fire Bowl Heater/BBQ/Ice Pit with Charcoal Rack Waterproof Cover FT136BK
Key Features:
【Durable Materials】Made of a premium iron frame, heat-resistant fire bowl, metal legs, poker, fire grate and safety mesh cover. High temperature resistance, the surface is coated with high temperature paint, which has good rust resistance.

【Warm Pattern Design】The design of patterns and devices are conducive to ventilation and combustion, both beauty and practicality. Portable function allows the fireplace to be moved anywhere. The cross weave shines on the ground, complementing any outdoor style, gives a warm feeling.

【Diversified Uses】Used for many purposes, such as bonfires, open-air barbecues, pool sides, backyards, can also be filled with ice, used as a cooler in the hot summer, etc. The firepit can hold a good amount of wood so the fire will stay lit for some time to warm you up while you enjoy time with family and friends in the backyard.

【Considerate Design】The fire poker in the bag provides great convenience for you to lift the screen on the fire pit or adjust the screen. The protective fire screen keep the ashes and sparks from flying out, and also for the convenience of multiple angles to view the fire provides a wide field of vision. The waterproof cover help prevent fire pit from rusting in the rain.

【Easy To Set Up】 Quick and easy assembly makes this fire pit ready for immediate assembly; and easy to move and store. Suitable for 4-8 people, suitable for family gatherings and friends gathering, you can create comfortable memories in the backyard or camping. We promise to provide a 3-month manufacturer's warranty to ensure that you have a worry-free purchase.
Item Specification
Size Description:
Total Dimensions (with fire screen):25.6"(D) x23"(H)
Total Dimensions (without fire screen): 25.6"(D) x 17.13"(H)
Spark protection fire screen dimensions: 23.46"(D) x5.19"(H)
Bowl Dimensions: 25.6''(D) x10.24'' (H)
PVC Rain Cover: 26.38"(D) x15.75"(H)
Supporting Feet: 7.09 "(H)
Poker: 16.14''(W)

Package includes
1 x Varnished Iron Frame
1 x Fire Bowl
1 x Spark Fire Screen
1 x Poker
1 x Waterproof Outdoor Rain Cover

Safety Tips
Do not place fire pit under the roof porch, beside the tree, wooden deck, or carpet to avoid fire.
Do not use your fire pit if it is too windy or too dry.
Do not use the fire pit unattended, otherwise it may cause safety problems.
Always use a poker to control fire, or regulate charcoal fire in the fire pit.
Use spark fir screen to keep embers inside the fire pit.
To best use this fire pit, please clean it with dry cloth after each use, and take it into.
About Mcombo Fire Pit
This is our new fire pit, designed for outdoor needs such as grill fire heating and BBQ, with easy installation for outdoor or backyard dinners and travel. The frame is made of high-quality iron, which is heat and rust resistant and is not easily deformed. It can be used for 4-6 people to warm up.