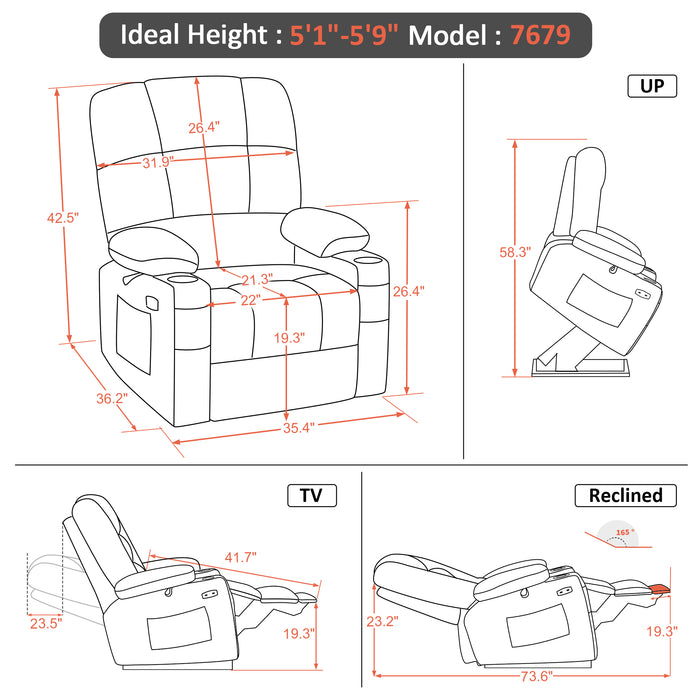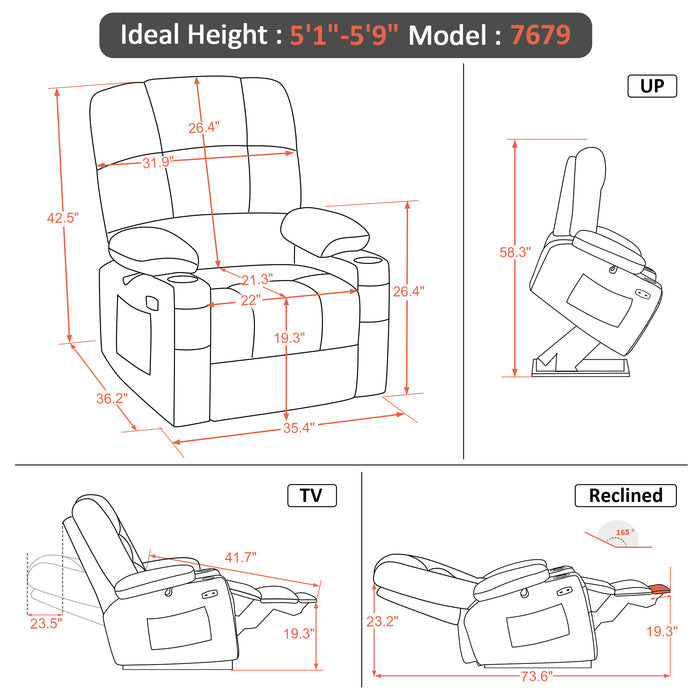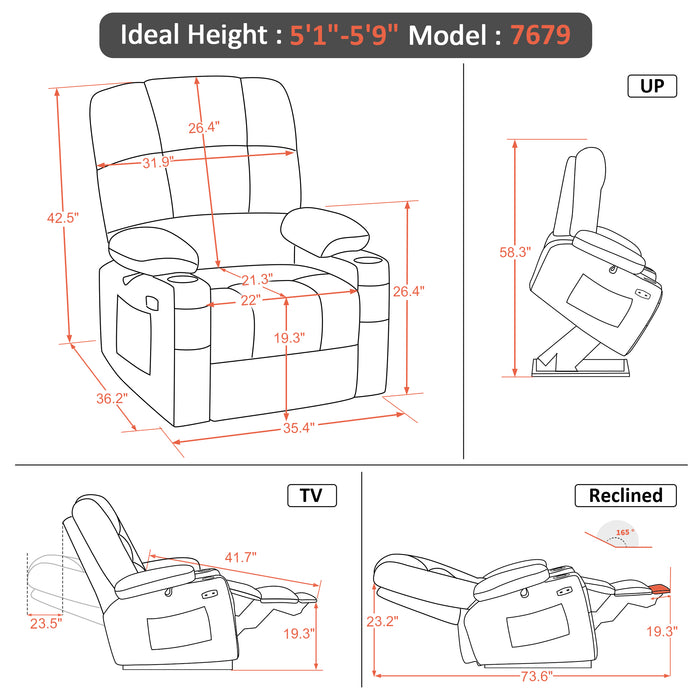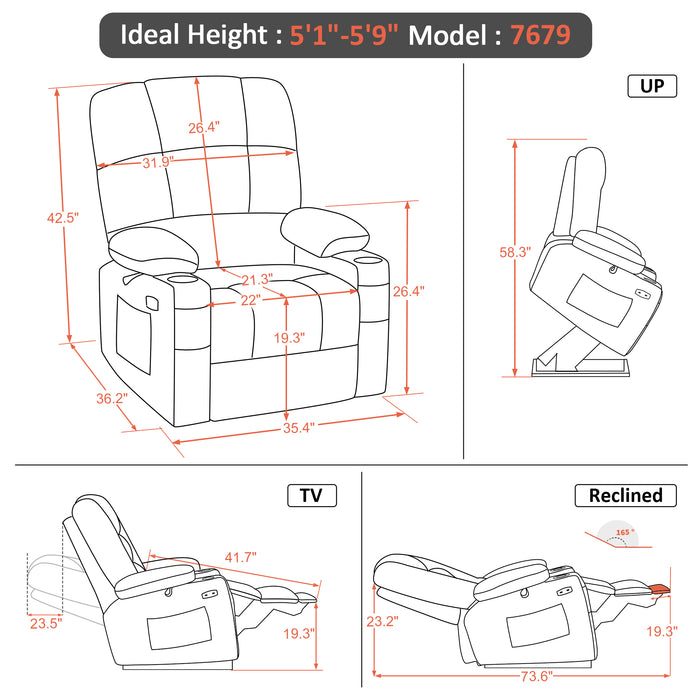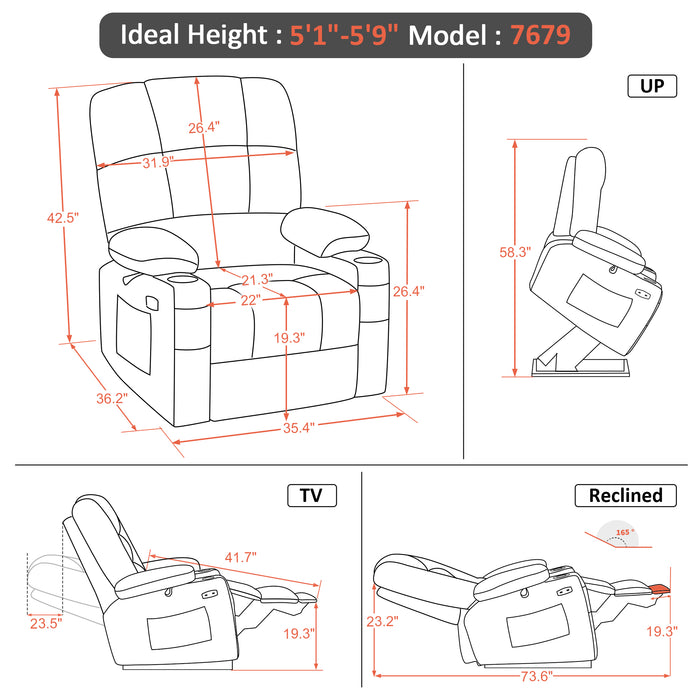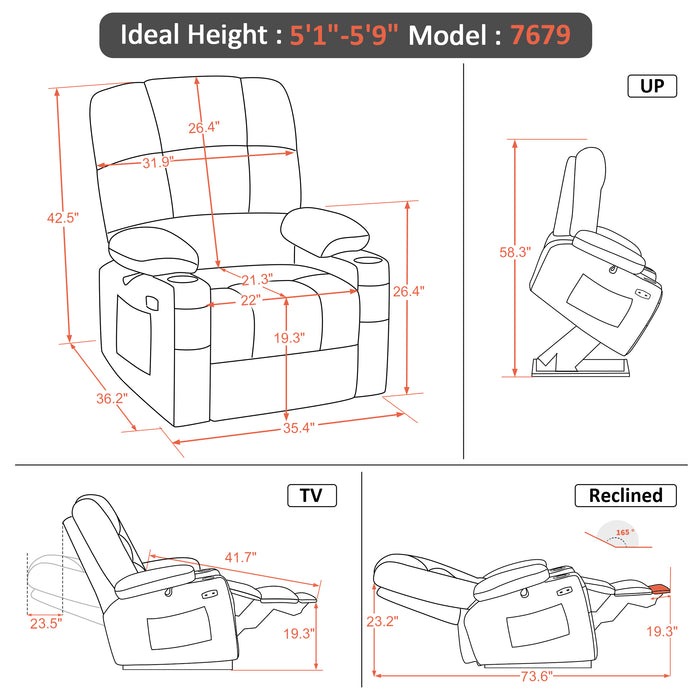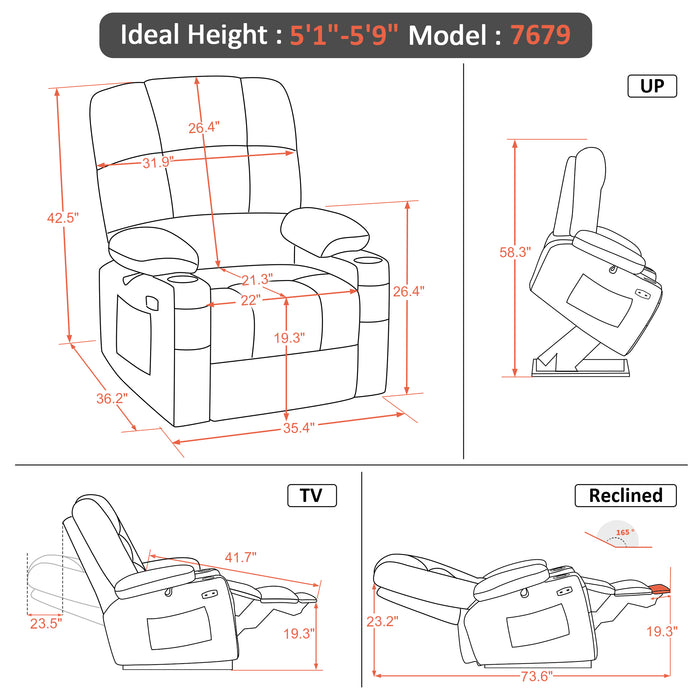 MCombo Medium Dual Motor Power Lift Recliner Chair with Massage and Heat for Elderly People, Infinite Position, Extended Footrest, Faux Leather 7679
About this item
Infinite Lift Position Chair: Since the built-in dual motor, the user can adjust the backrest and footrest independently to the infinite position you want, lift, TV and lay-flat. (Max reclining angle: 165°). When you only press DOWN button on remote control, the footrest will extend out to TV position.
About "Home" Button: By pressing the HOME button on the remote control, the user will lift from the prone position in a maximum of "16" seconds to answer the door. (When the reclining position is raised, the back will move first to ensure your safety.)
Full-body Vibration & Lumbar Heating: By selecting massage intensity and speed, target select the vibrating points to relax tired muscles or aid the recovery from surgery. Meanwhile it can also be timed. (The heating function works separately from the vibrating function.)
Extended Footrest: Adding up to an additional 4.7" extension to the footrest so that the user can really stretch the body at full length 72"and still have your feet well supported without cutting off circulation. (Recommended Height: 5'1"-5'9")
More Functions User Need: The dual USB ports and cup holders in the recliner will allow you to put the drink on the cup holder and charge your mobile devices all while enjoying a movie or enjoying your favorite apps.
About Installation and Transportation: The chair is equipped with a simple manual. Easy assembly required, no tools needed. Also, it comes with 2 boxes, and please patiently wait for receipt of all boxes.
Item Specifications
Overall Dimension: 35.4"(L)x36.2"(W)x42.5"(H)
Seat Width: 22"
Seat Depth: 21.3"
Seat Height: 19.3"
Seat to Top of the Backrest: 26.4"
Maximum Length: 73.6"
Required Back Clearance: 23.5"
Reclining Angle: 165°
Voltage: 110-120V
Weight Capacity: 320lbs
Buyer Reading
Recommended Height: 5'1"-5'9"
Easy Assembly Required
Package Quantity: 2
Warranty Information
Lift/Reclining mechanism: 1 Year
Frame: 1 Year
Electronic parts: 1 Year 
Mcombo Return Policy
All of lift recliners come with a 30-day return/replace policy. During this time, we will cover the shipping cost of quality issues chair, through provide pre-paid return label or pick up service for customer's convenience.
Note: Please disassemble the chair before you return it, otherwise there will be a huge cost as oversized.