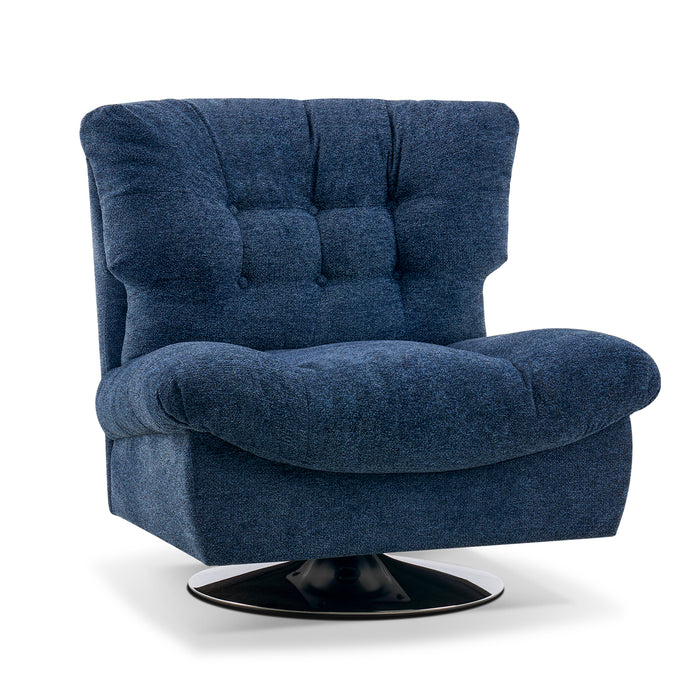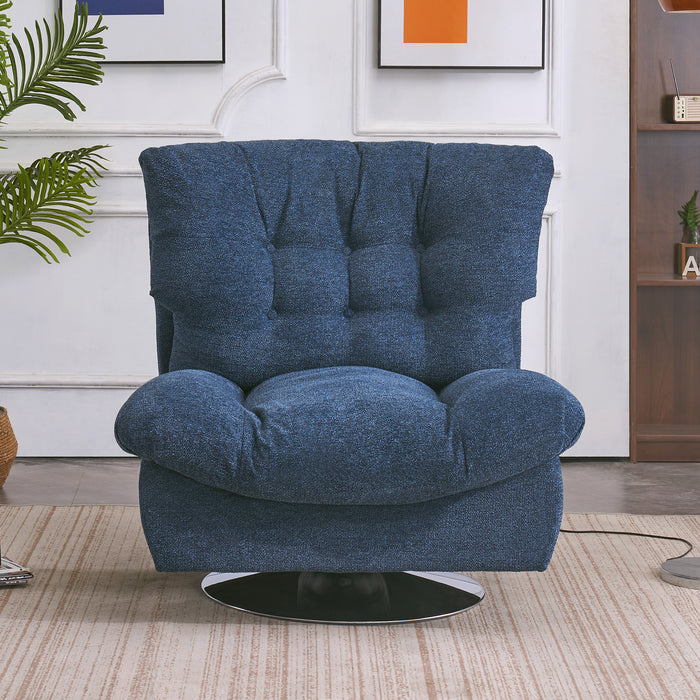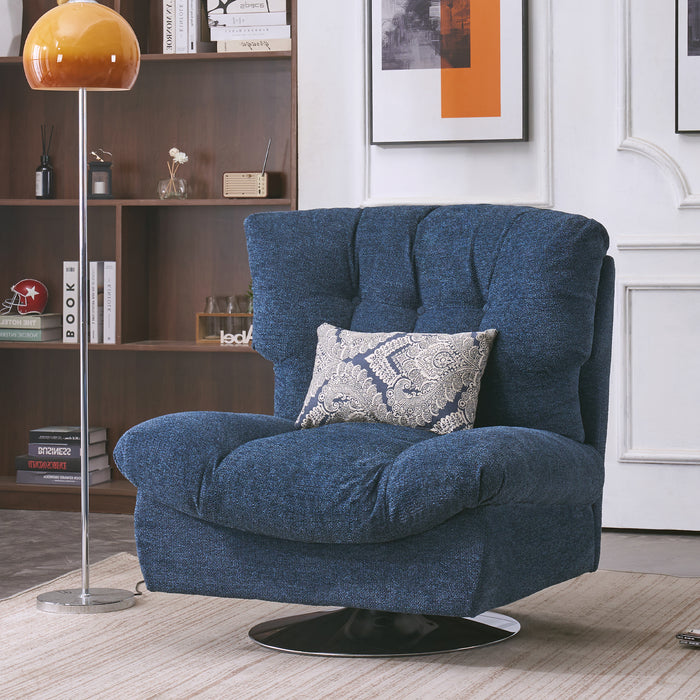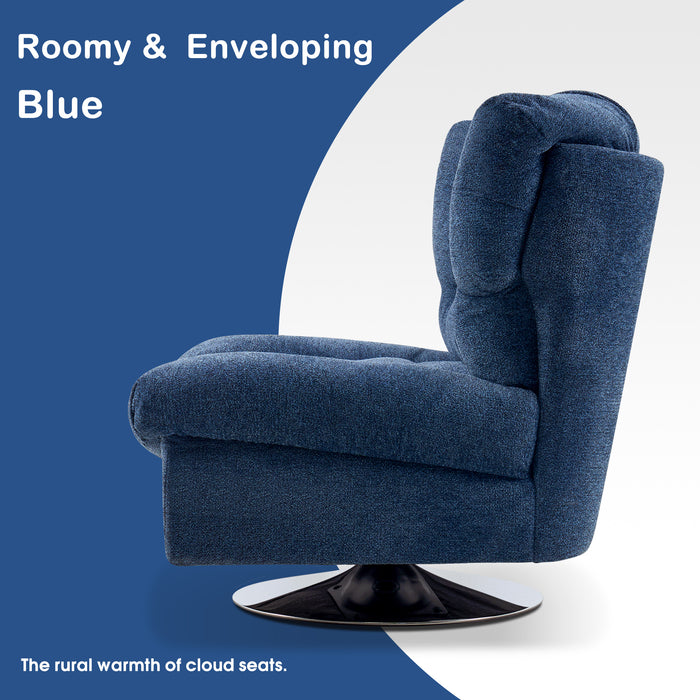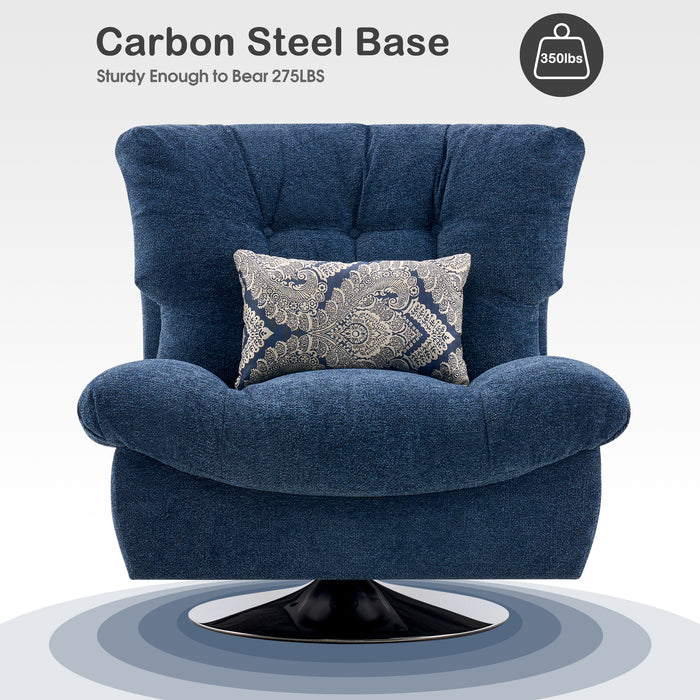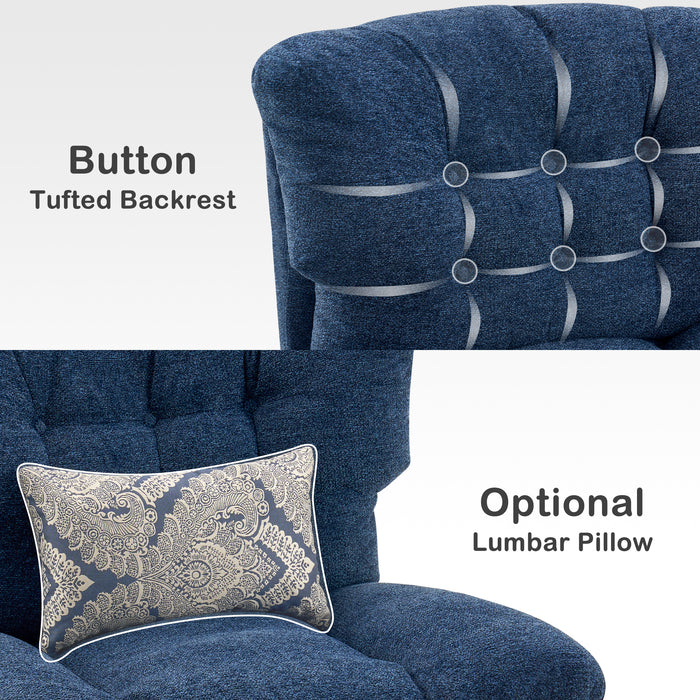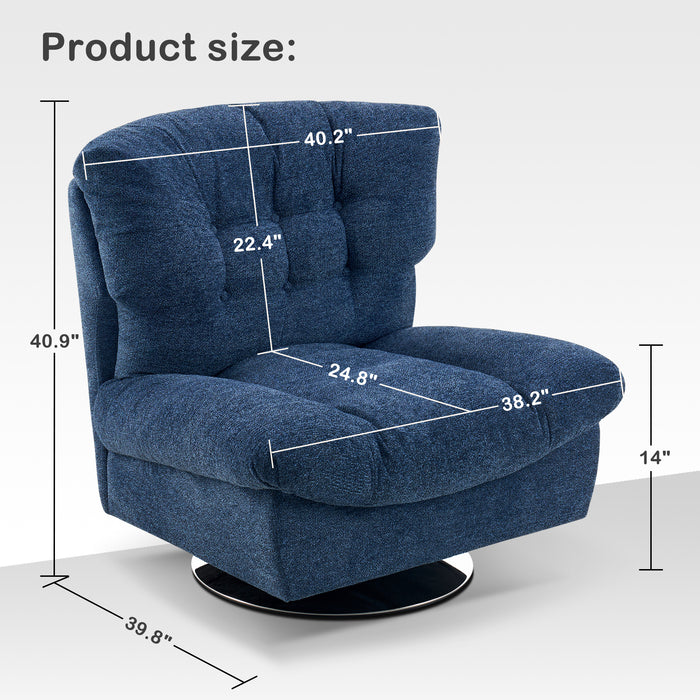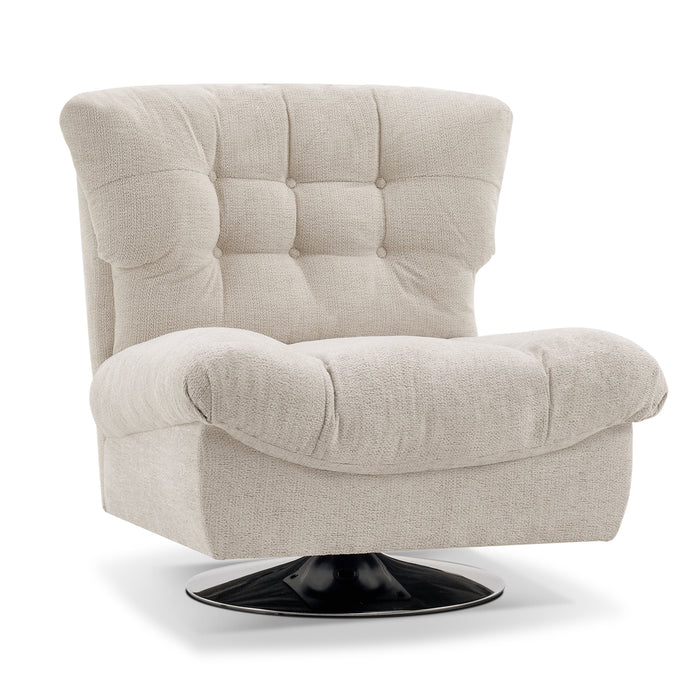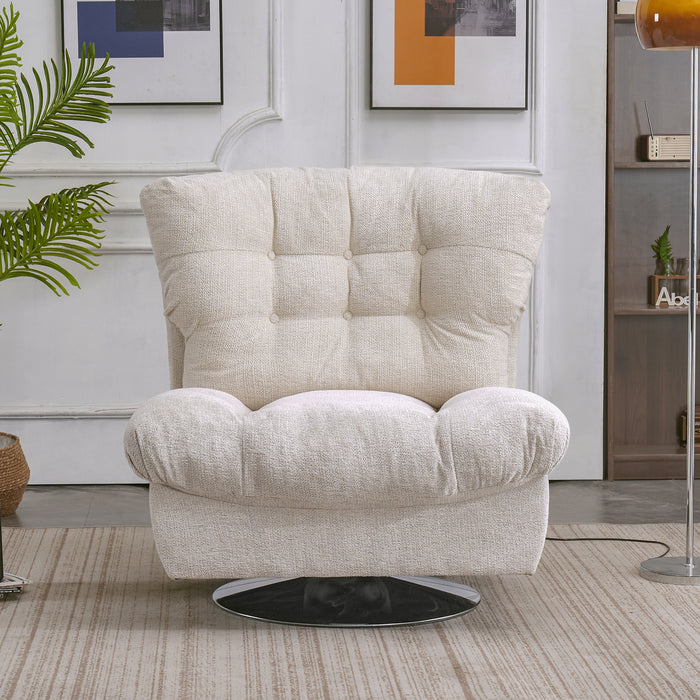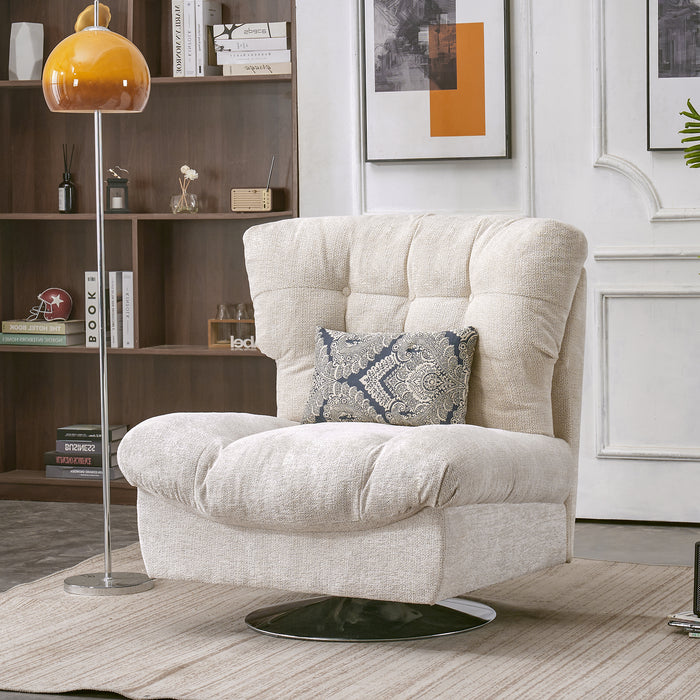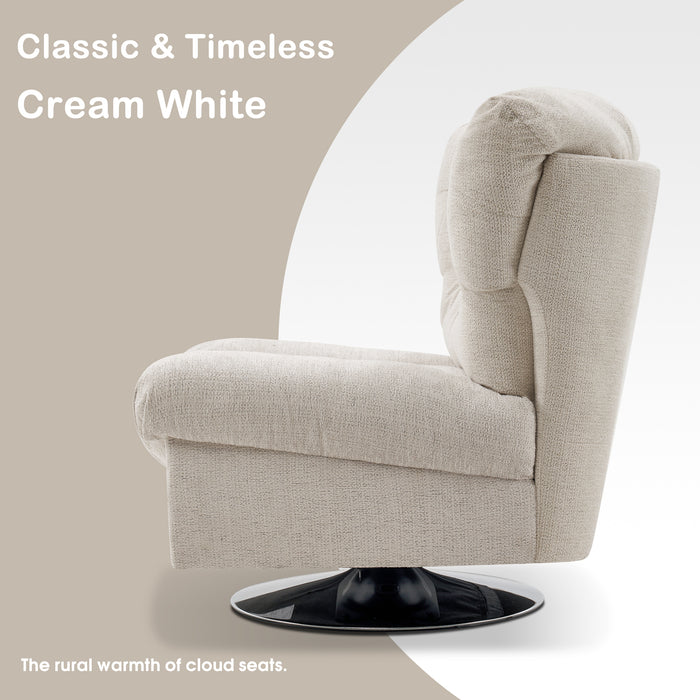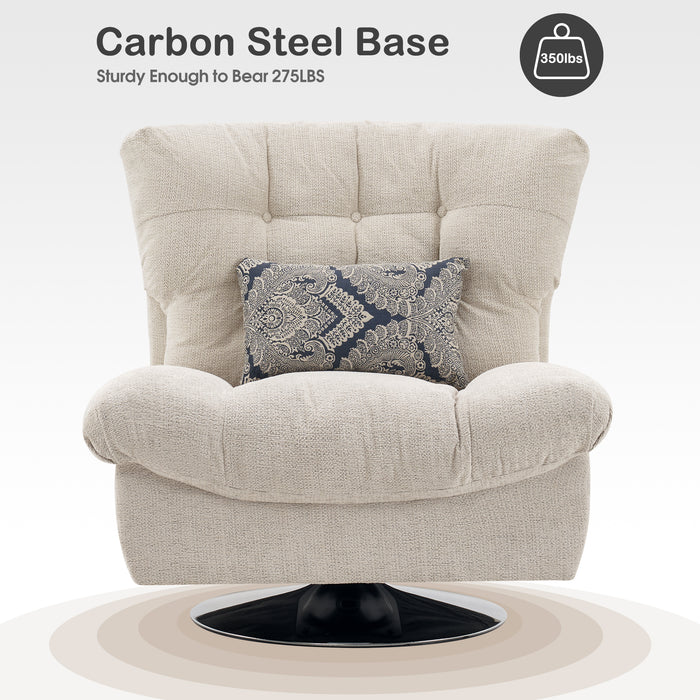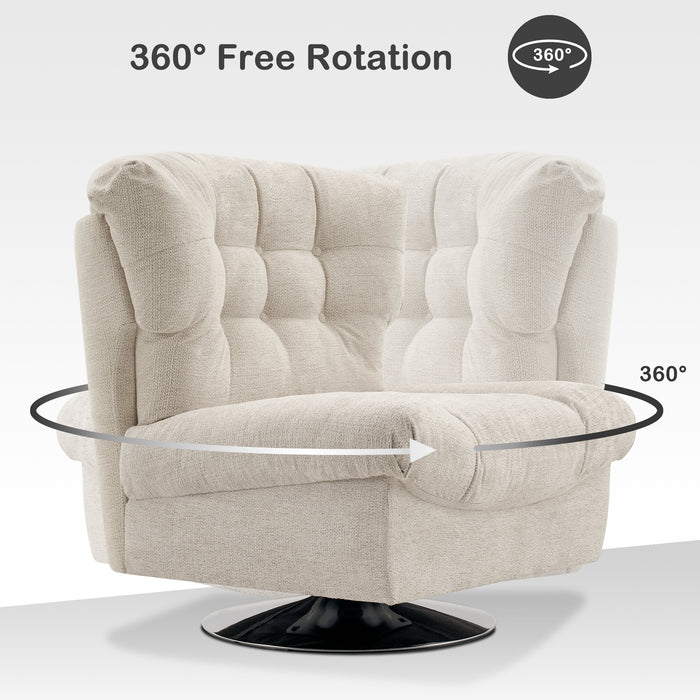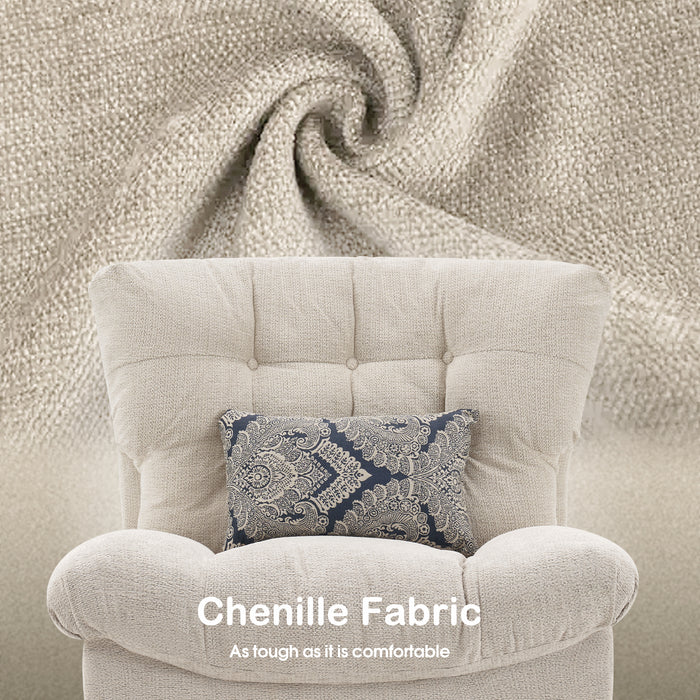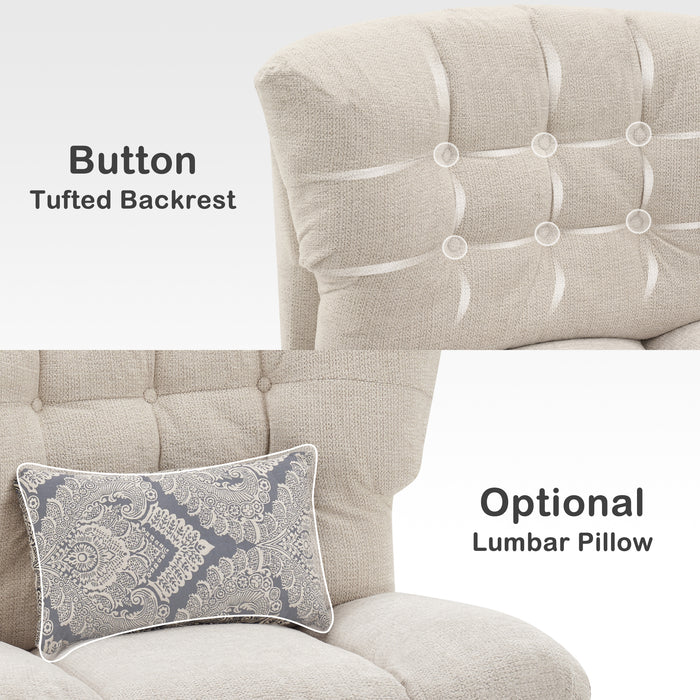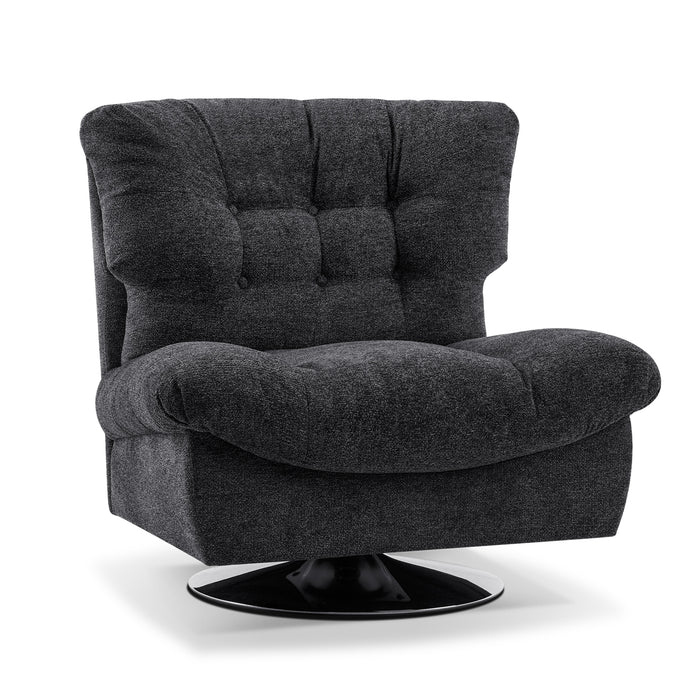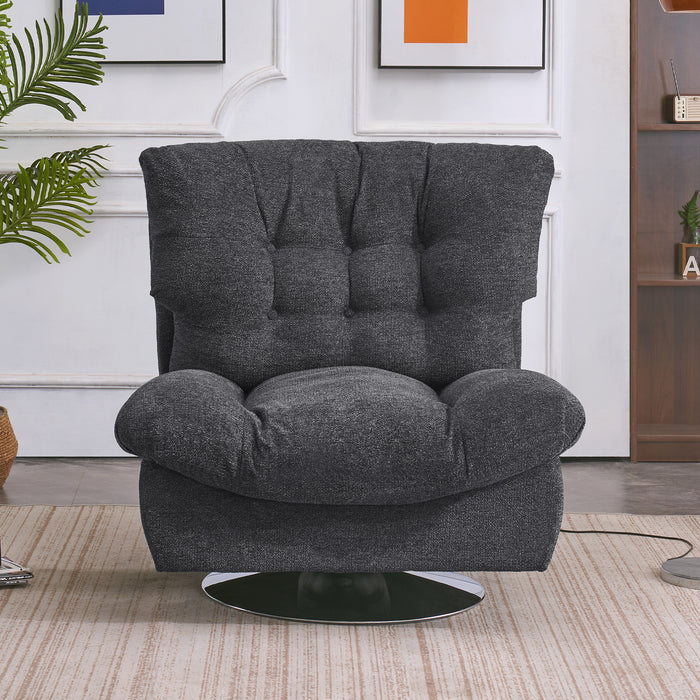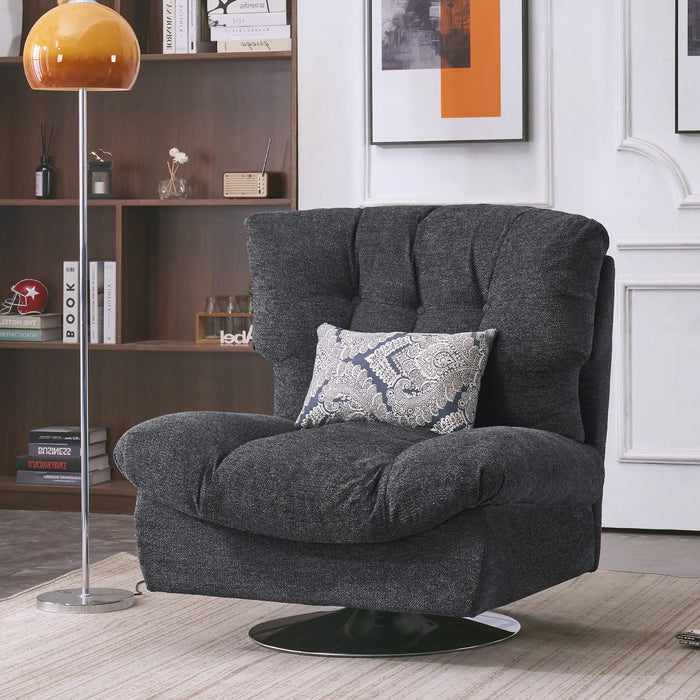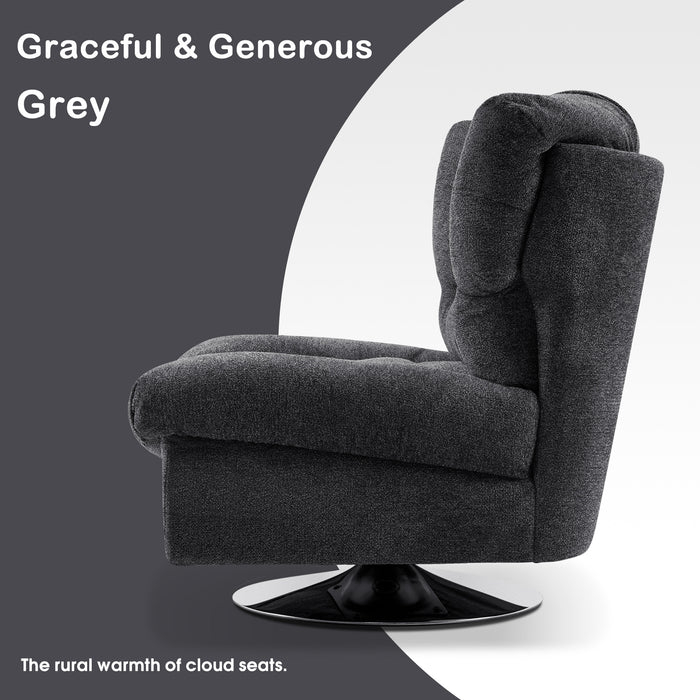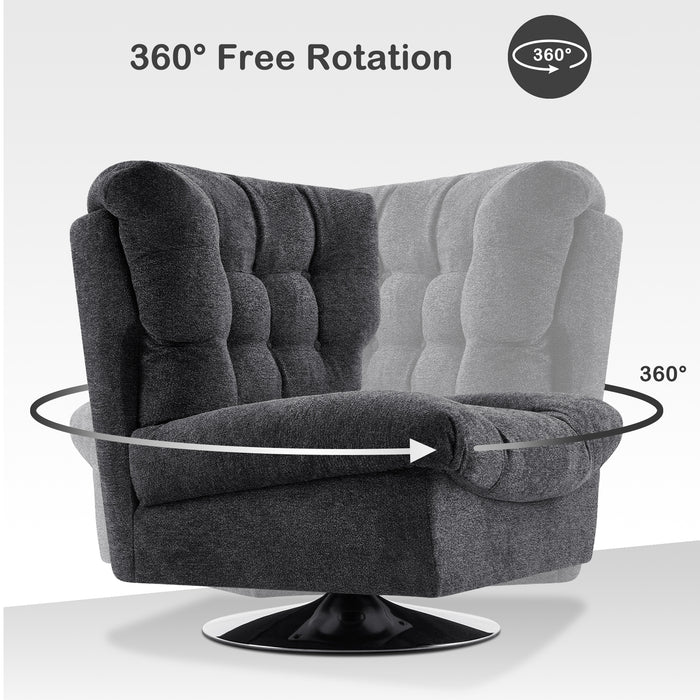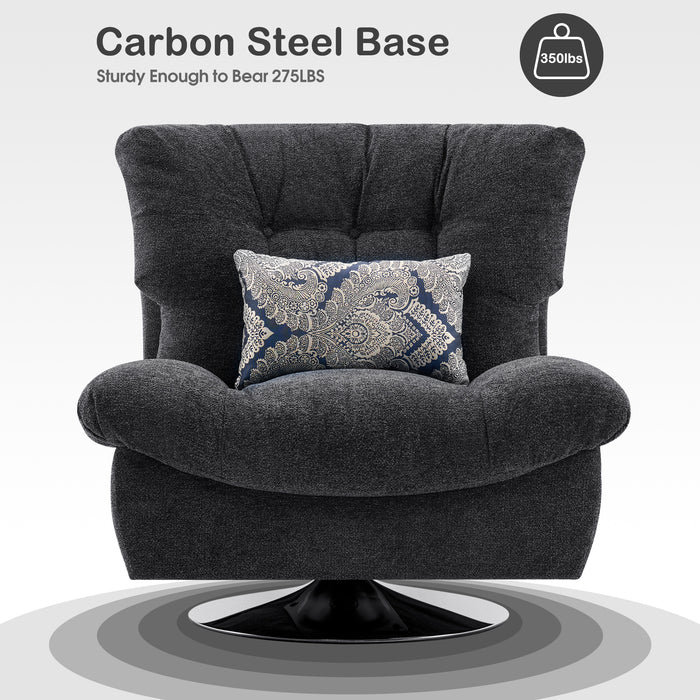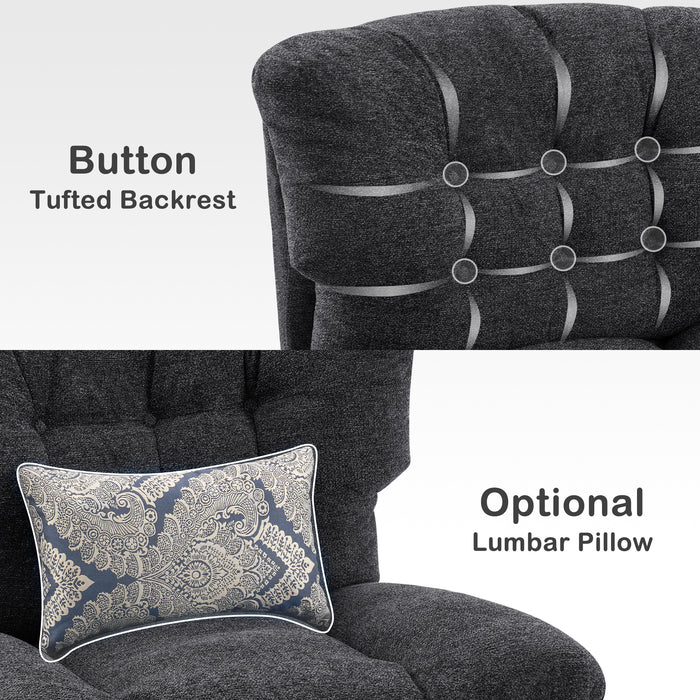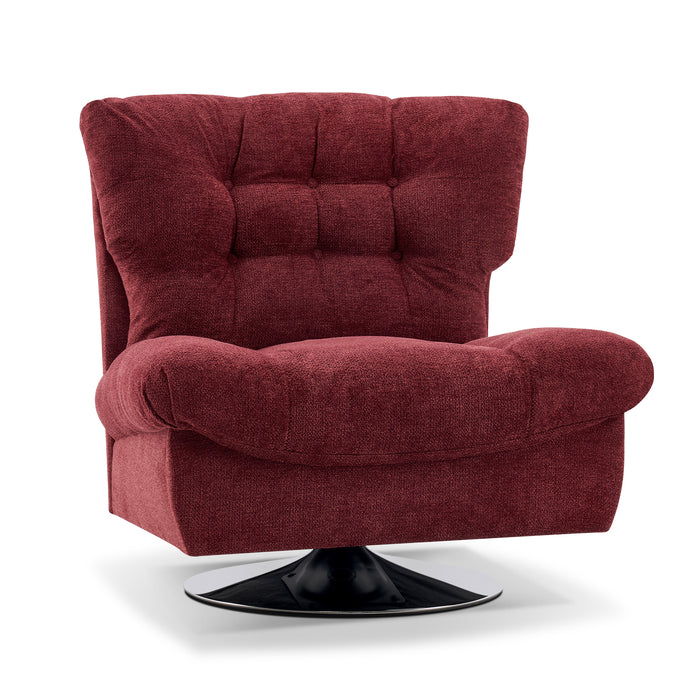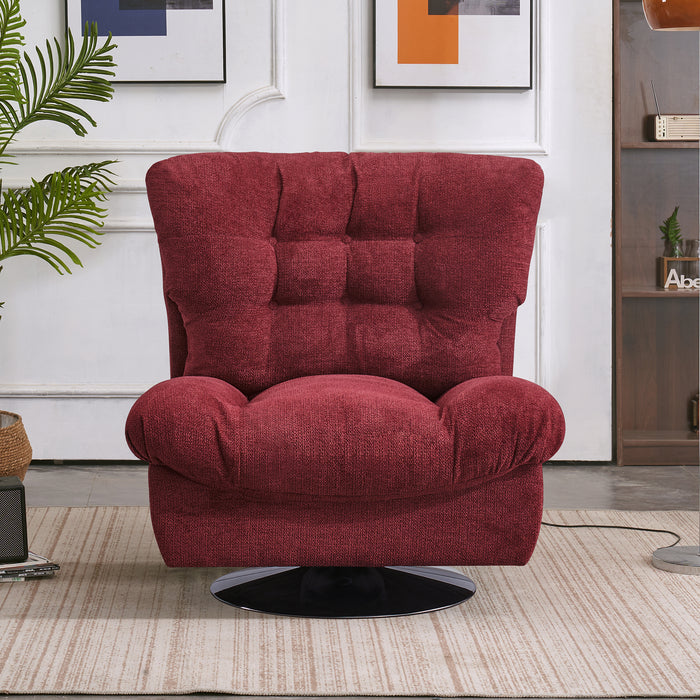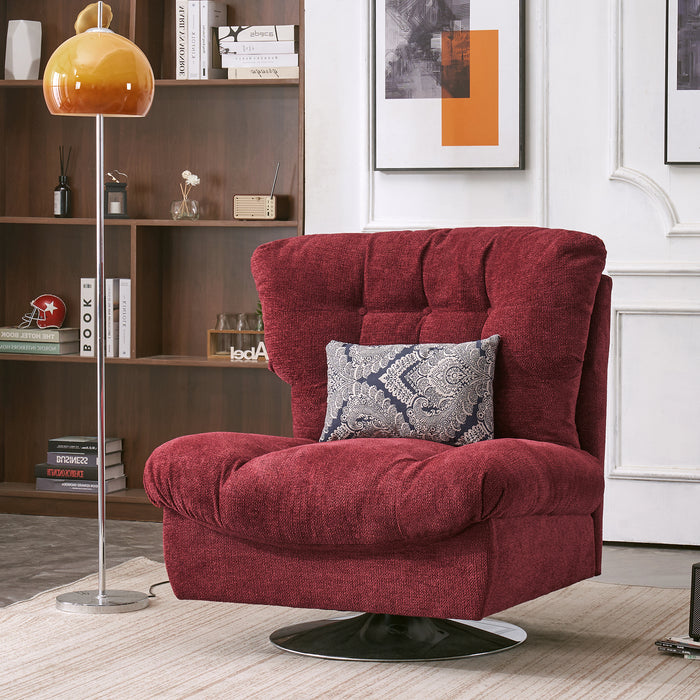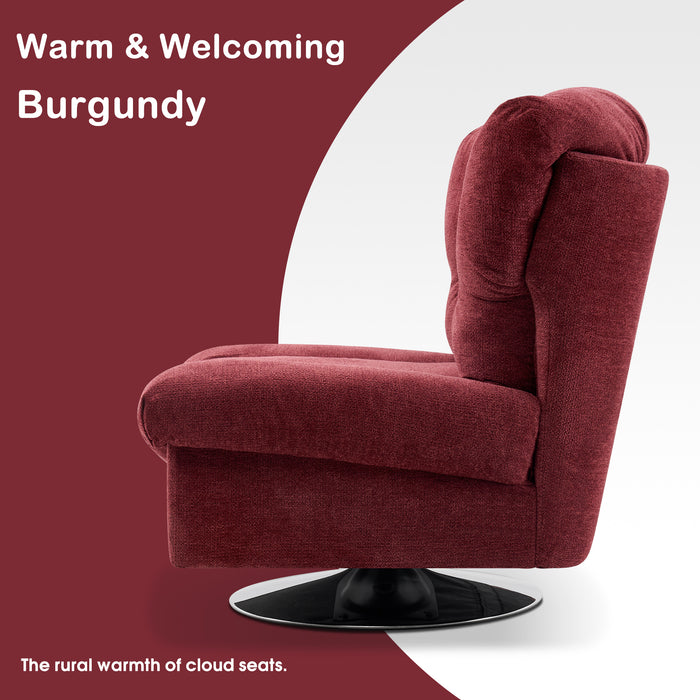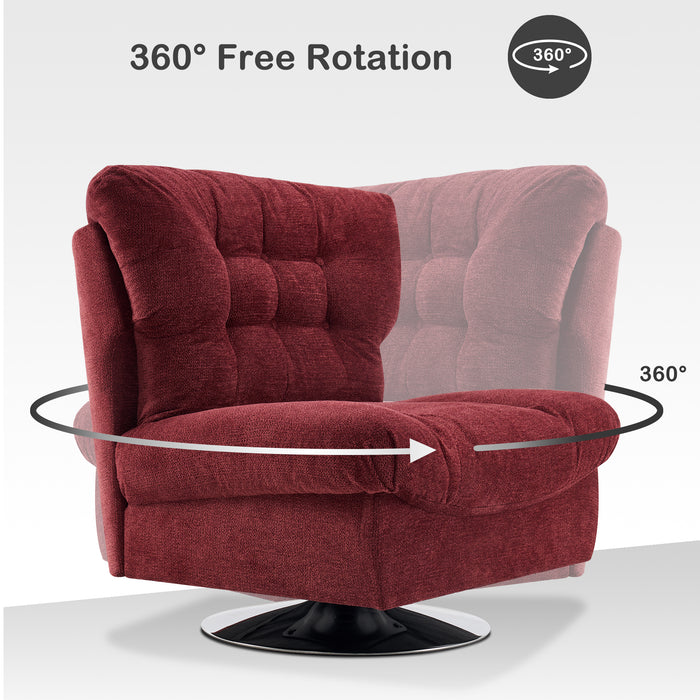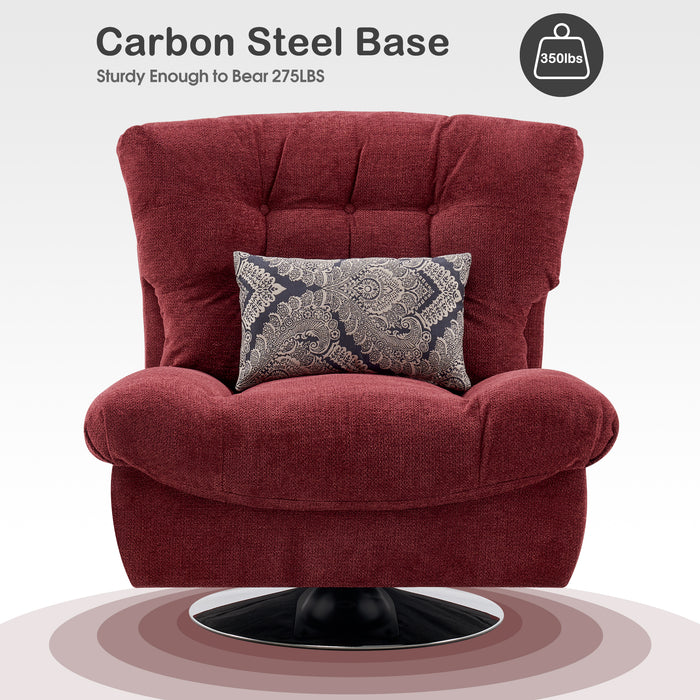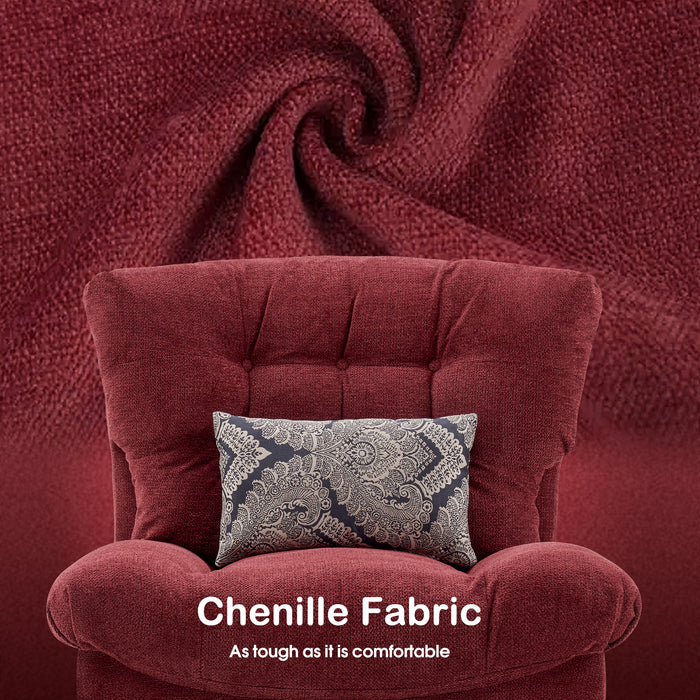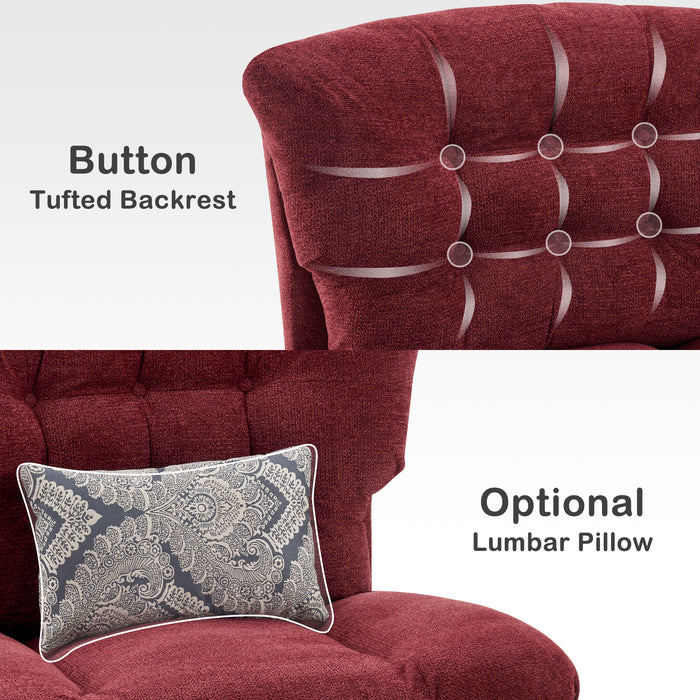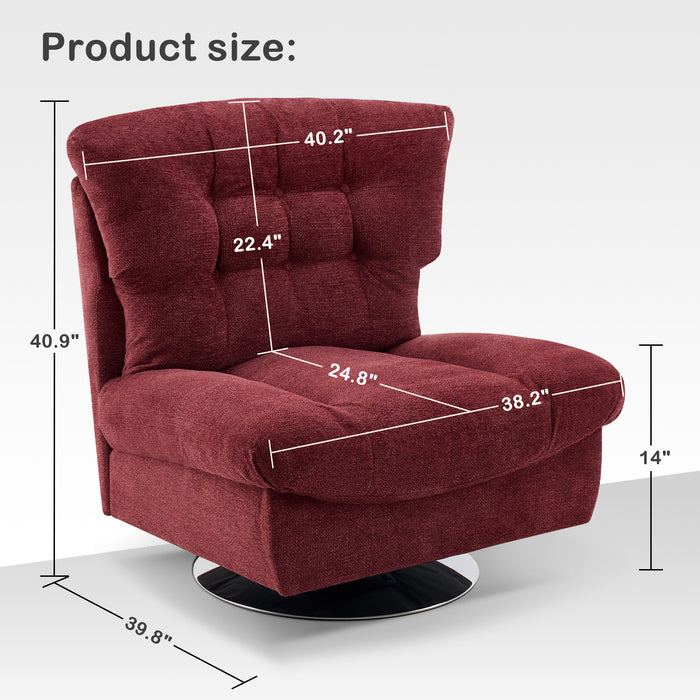 Mcombo Modern Swivel Accent Chairs, Button-Tufted Slipper Chair, Chenille Upholstered Wingback Leisure Sofa Chair for Living Room Bedroom LW753
About this item:
[360-degree Spinning] - Set on a spin axis, this swivel chair spins a full 360 degrees. You can turn a full circle smoothly and easily, without any wobble and likelihood of falling form it. With its rotation mechanism, this convenient chair is suitable for a conversation piece, lounging with your friends or simply enjoy yourselves. The hidden swivel mechanism lets you go from TV viewing to looking into the distance in one swoop.
[Wide and Welcoming] - This armless chair is designed with streamlined profile, a 40.2'' wide back and a 24.8'' deep seat , perfect for leaning back and relaxing after a long day. The armless design provides more space for your seating and arm extending. Grandly scaled with a high back and a spacious seat, this cozy chair is lounge-ready with a wing back and low-slung seat, beckoning you to sit back and lounge awhile.
[ Thick and Inviting] - The seat cushion is of 8.5'' thickness and the back cushion is 9.8'' thick. The cushions are filled with premium sponge, and both ends of seat cushion are higher than the middle part, offering a sink-right-in and cloud-like feel. This ergonomic chair appropriately contoured to fit the body curve, putting you at the perfect angle to enjoy book & movie night, or an afternoon nap. There is an extra toss pillow included, ensuring that your back and waist is well-supported.
[Heavy-duty Supporting] - This comfy chair features a carbon steel base, which is well-balanced and solid to carry about 275lbs. Over-sized base plate and its extra thickness ensure enough stability. Exposed round base pops against the plush and thick seat, bearing the whole chair body with safety and sturdy.
[Chenille Upholstered & Button Tufting] - Upholstered in Chenille fabric, this lounge chair is breathable, soft and durable. Decorative button highlights the delicate and tailored look that accentuates its handicrafts. The grid tufted seat and winged chair back offer just the right mix of a comfortable seat and wraparound back.
[Blend with Various Settings] - Built to be versatile, this multipurpose chair blends easily with any decor. Its design is suitable for a range of occasions including living room, bedroom, dorm room, apartment, balcony, lounging, sunroom, reading room, game recreation room and so on.
Reasons to Choose This Chair:
Function - Free Rotation :This swivel chair is set on a convenient rotating base, which is extra-functional and offers you an around-the-home view, allowing for easy turning.
Ergonomic - Cozy Seating : Every time you rest on this side chair, youwill find yourself simply sinking into the cloud-like cushions, with your back, waist, thigh supported. And the chenille fabric ensures supreme comfort when siting in it.
Stability - Heavy-duty Construction :The chair base is made of carbon steel, solid enough to support the whole chair when you are seated. When you turn to and fro, you'll get a stable rotation without any wobbles.
Seat Size - Enough Space : This oversized chair, with spacious seat, lets you sprawl out, curl up or even cuddle close. you won't find yourself outgrowing it, when enjoying yourselveswith a good book and a blanket after a long day at work.
Versatility - Versatile Placement :This trendy and beautiful piece will make a great statement piece in your home, fitting into various occasions, such as sunroom, living room, bedroom, balcony, dorm room, game recreation room, etc.
Assembly - Easy to Assemble : This chair comes in two boxes, seat, backrest, base, tools and hardware included. Following instructions, you can assemble this chair easily.
Customer Service -Pre- and after-sales service : Mcombo Customer Service will not end with customers'  We are trained to resolve any problems with our products and installation. If you have any questions, do not hesitate to reach out to us.
 About Mcombo Living Room Chairs
Boasting years of chairs experience, Mcombo is dedicating to build comfortable living room chairs and help you create a great place to hang out, enjoy peaceful time and add a touch of relaxation to your home.
With supportive seat, extra-functional base and ergonomic features, this cozy chair offers you an optimized body alignment, using streamlined design, delicate handcraft and premium material. It is simply the best piece of furniture for relaxing yourselves or simply lounging with your friends. We believe it is a perfect addition to any home.
Item Specifications:
Color : Grey/ Blue/ Burgundy/ Cream White
Material: Chenille Fabric + Sponge Filling+ Carbon Steel Chair Base 
Chair Dimensions: 40.2"x 39.8"x 40.9" (W x D x H)
Seat Dimensions: 38.2"x 24.8"x 14'' (W x D x H)
Seat Cushion Thickness: 8.5''
Backrest Heights: 22.4"
Maximum Weight Capacity: 275lbs
Number of Packages: 2 boxes