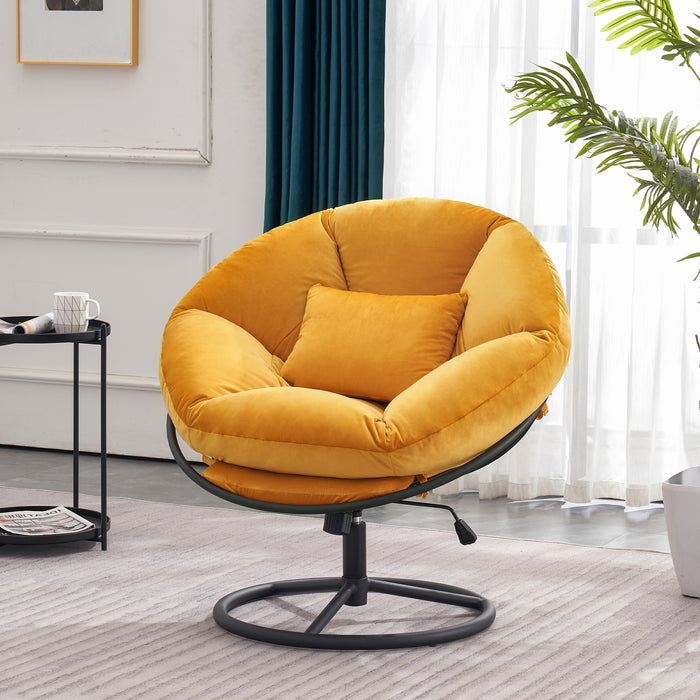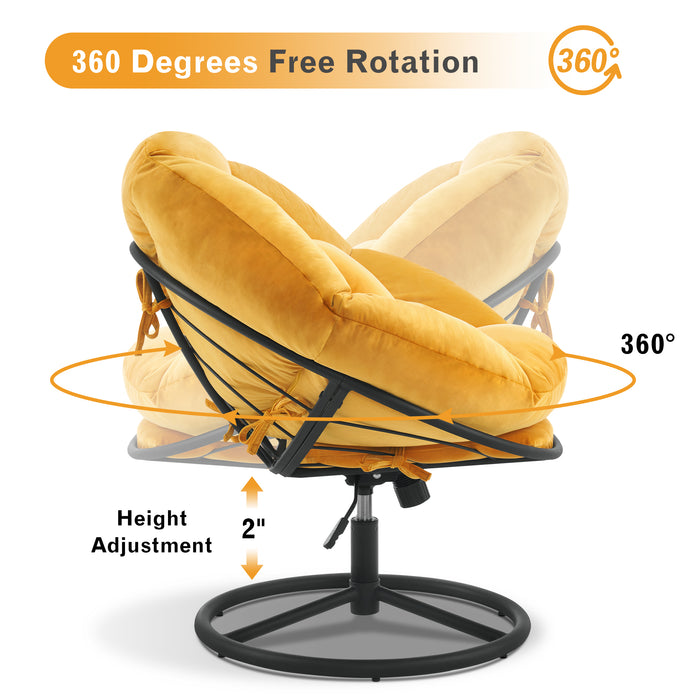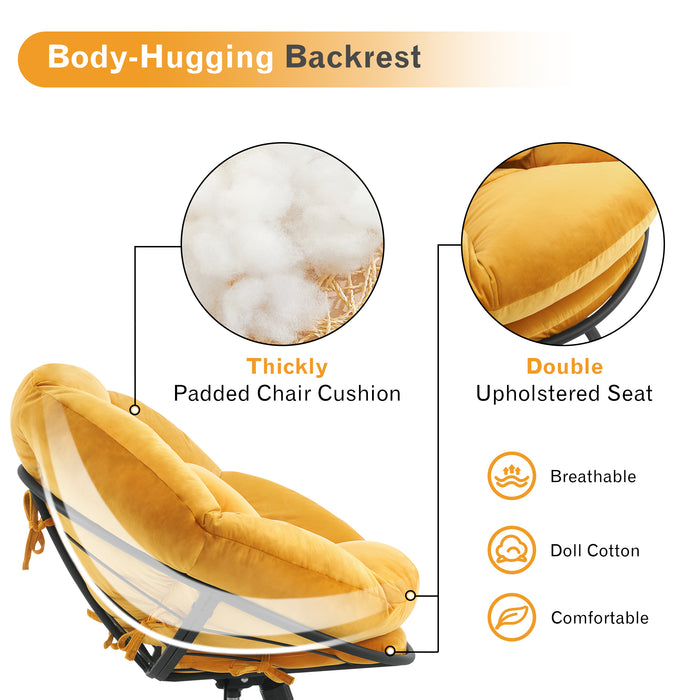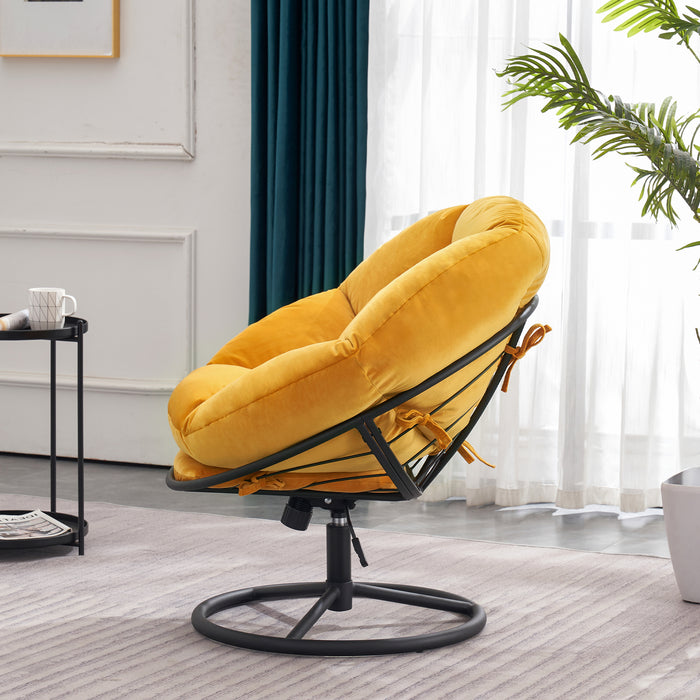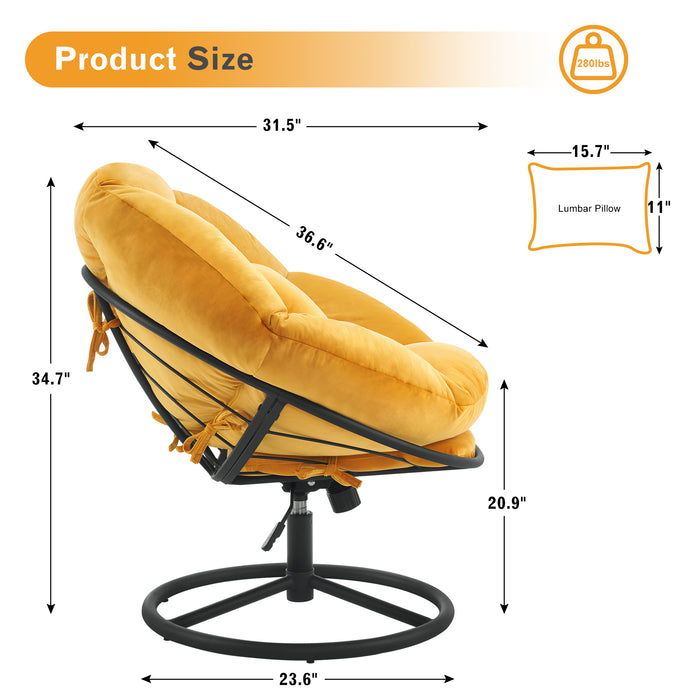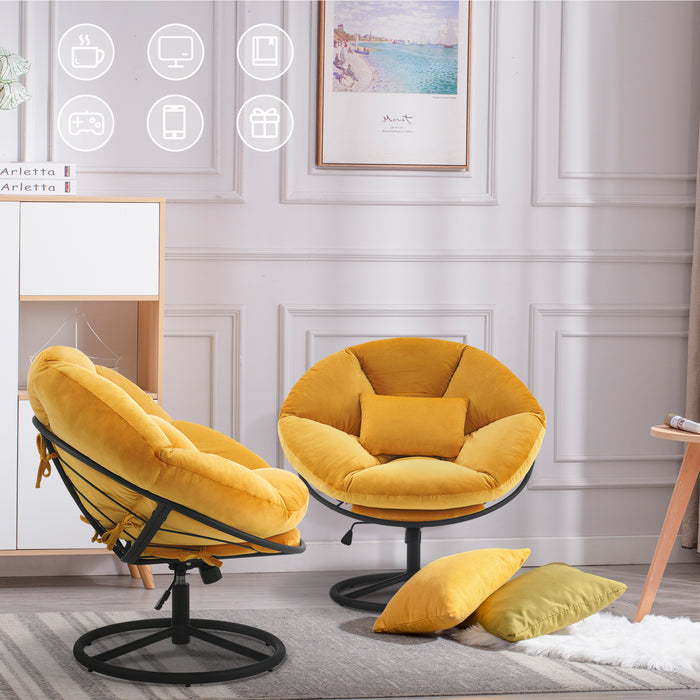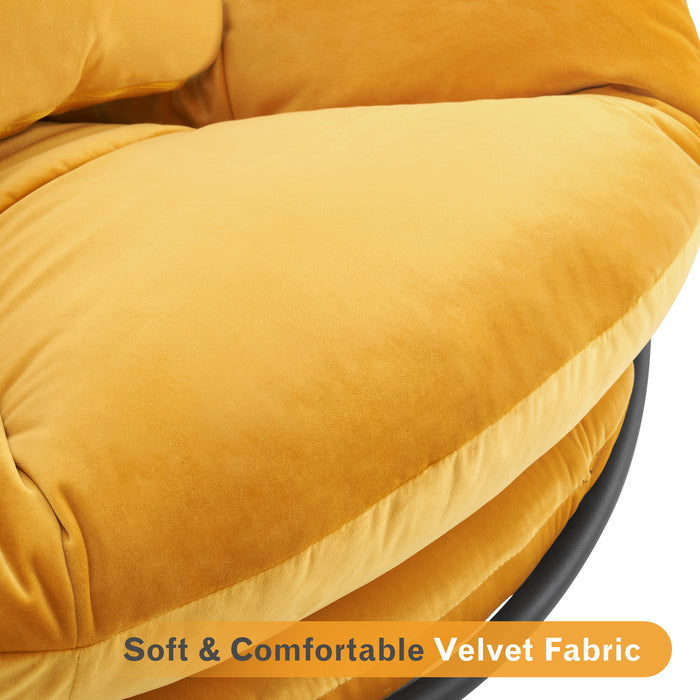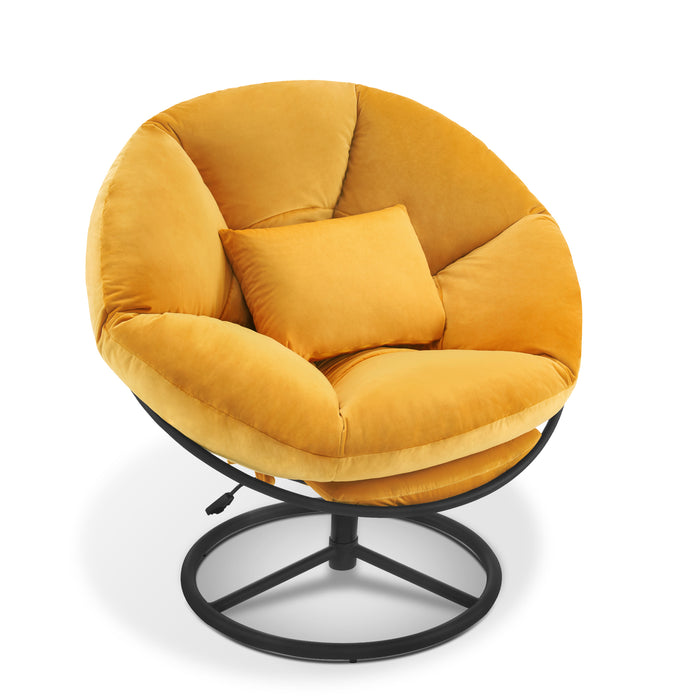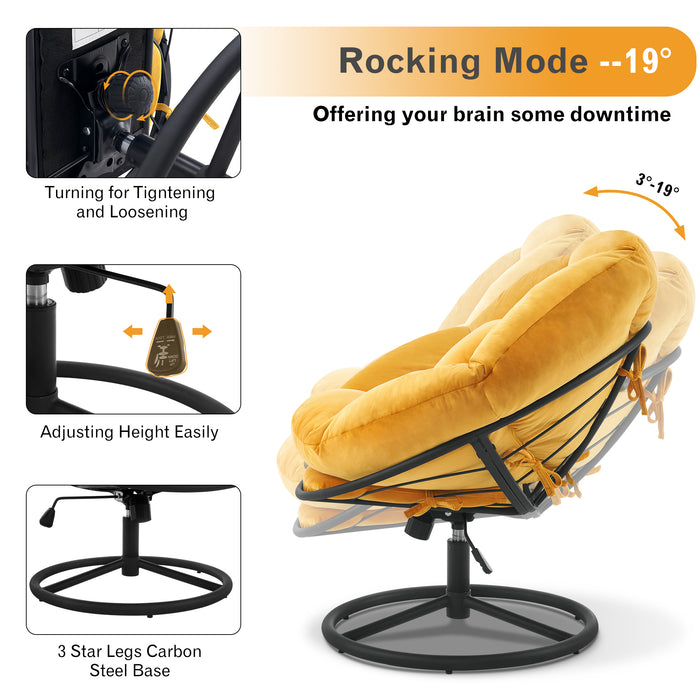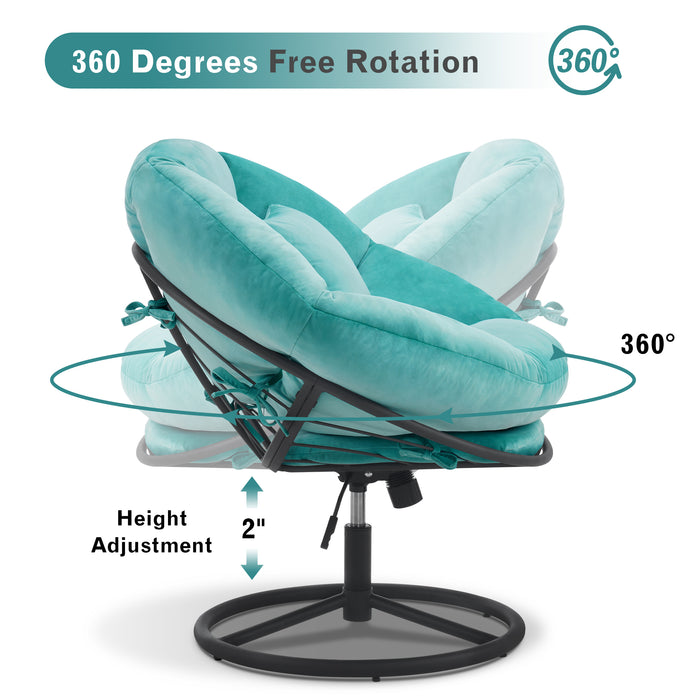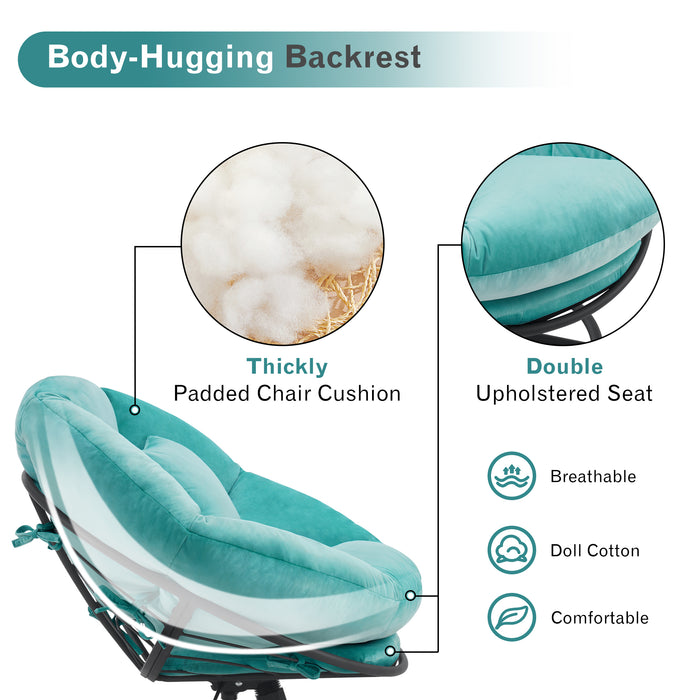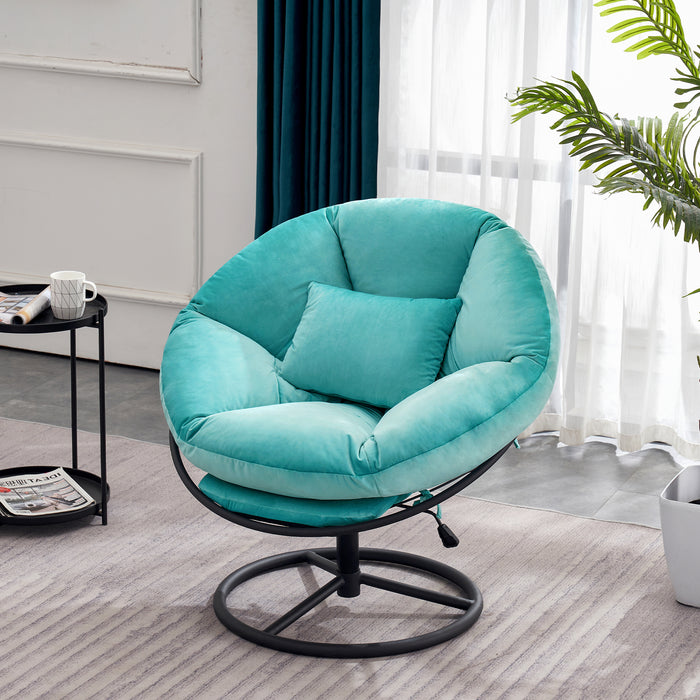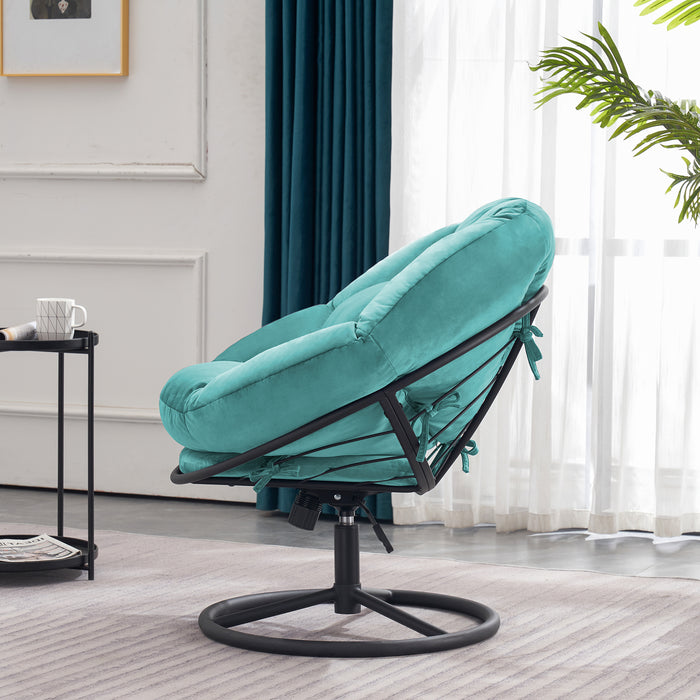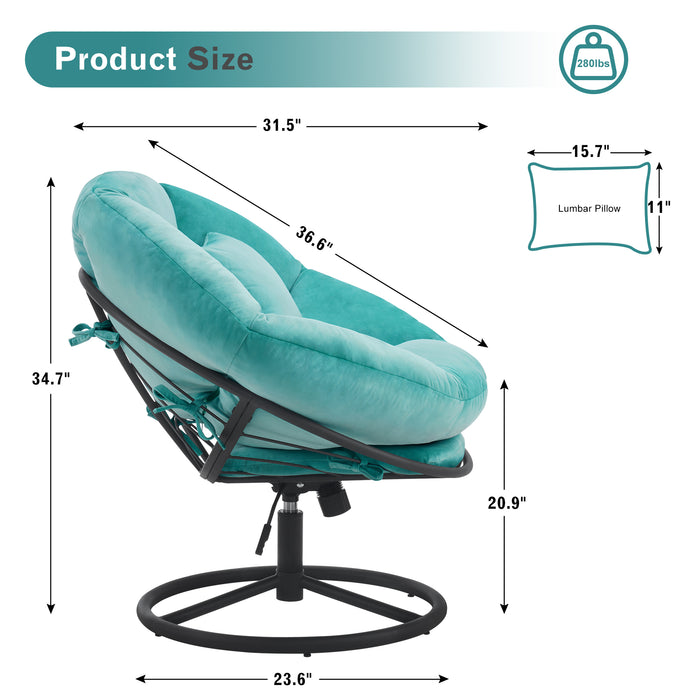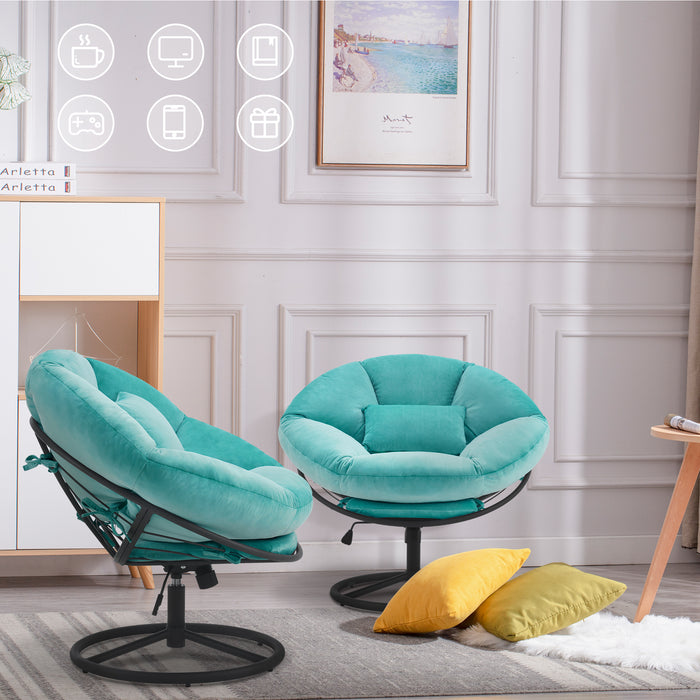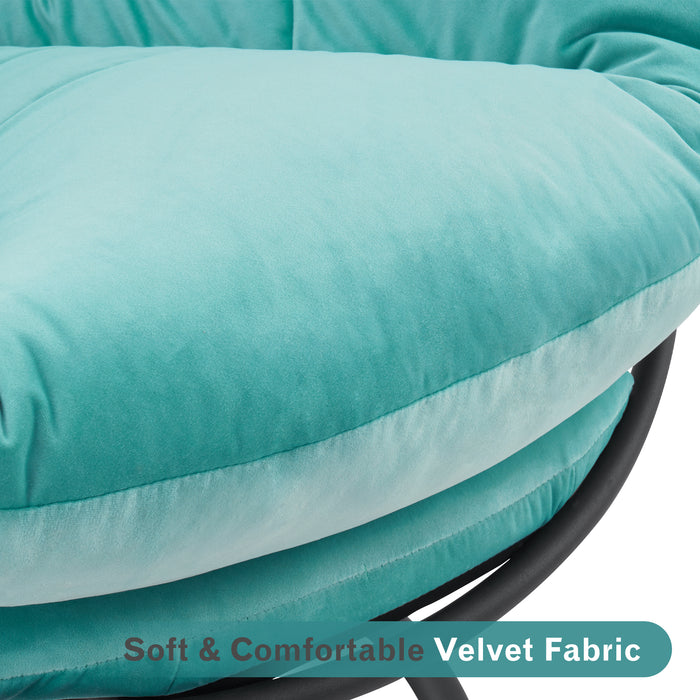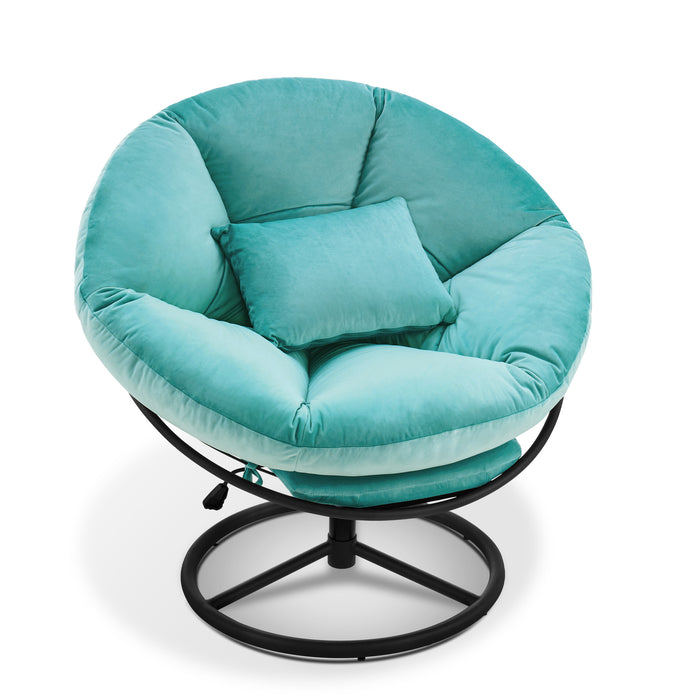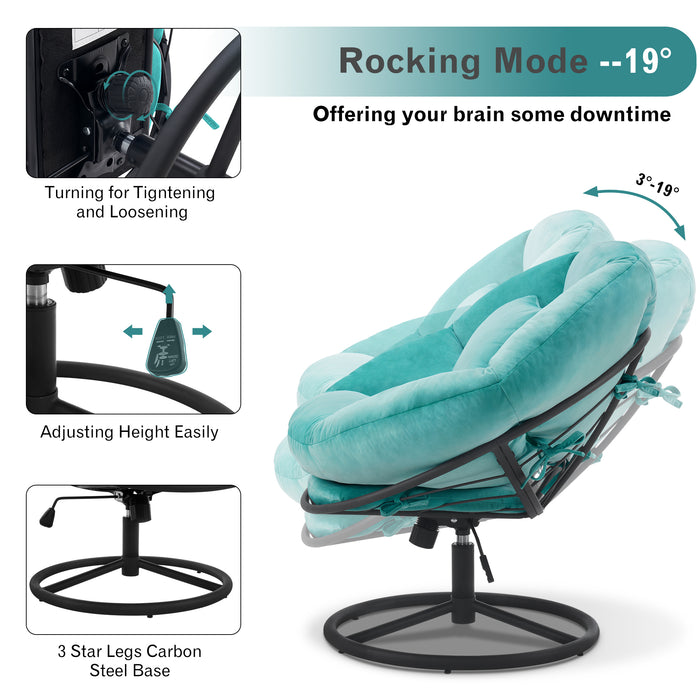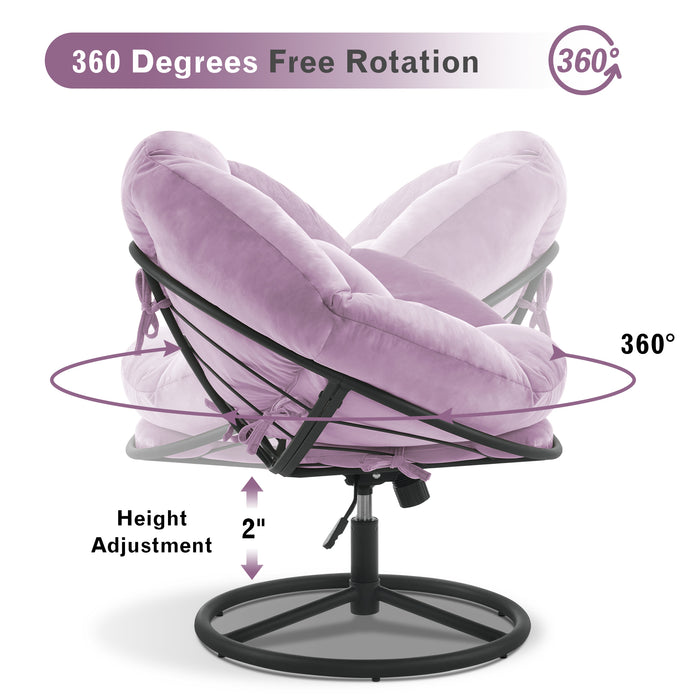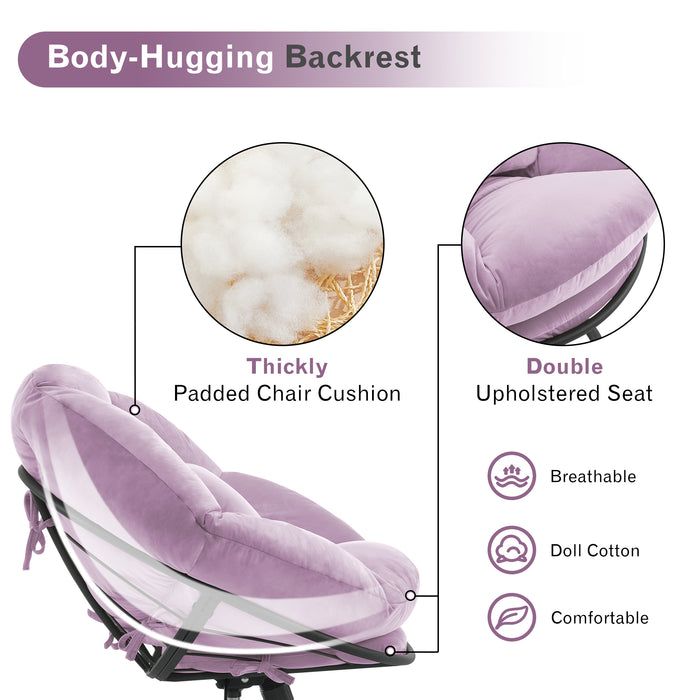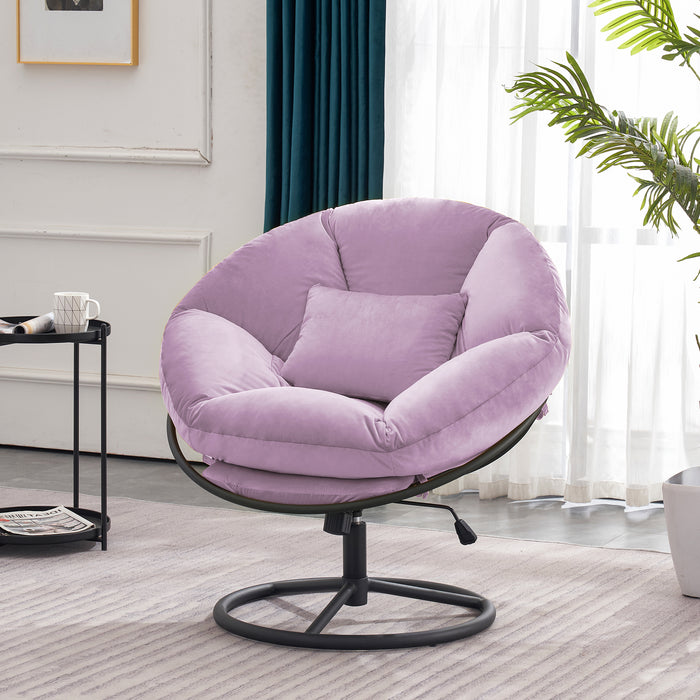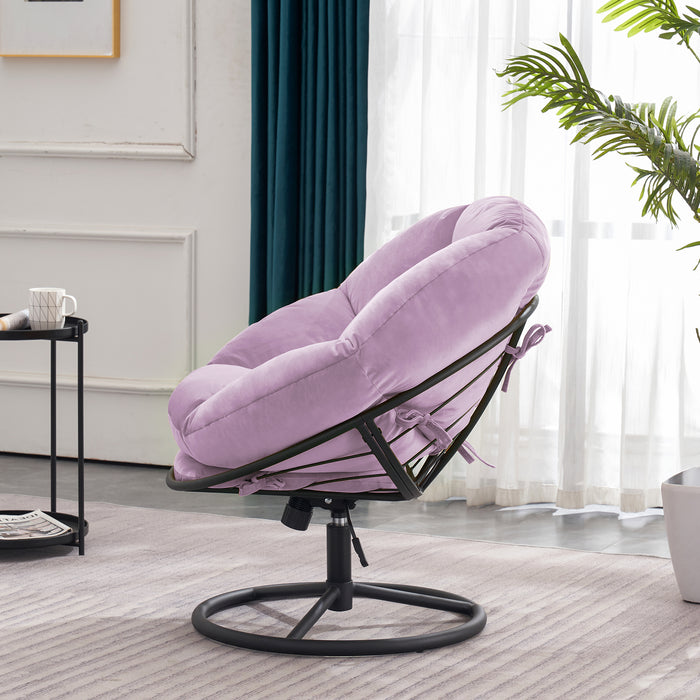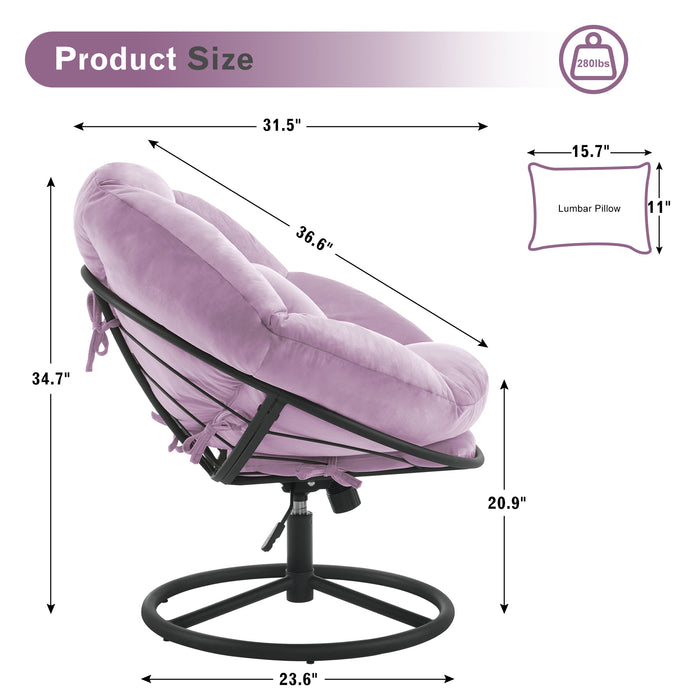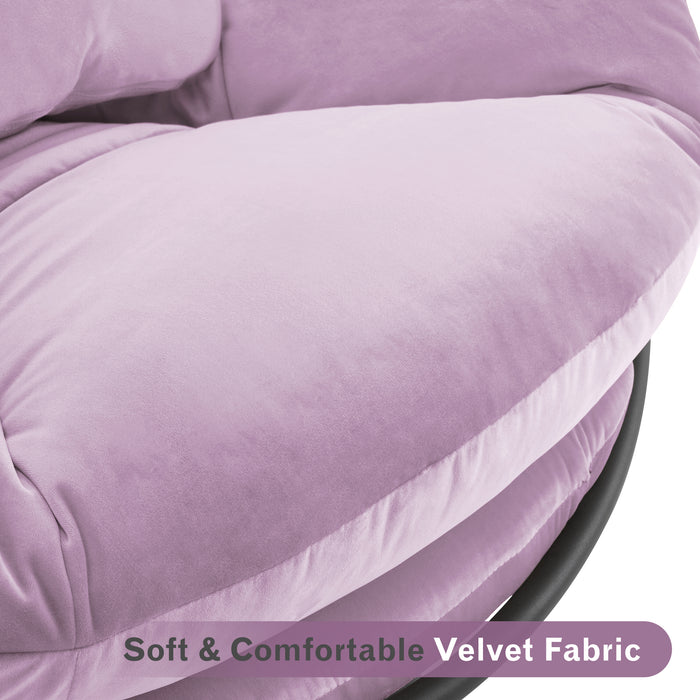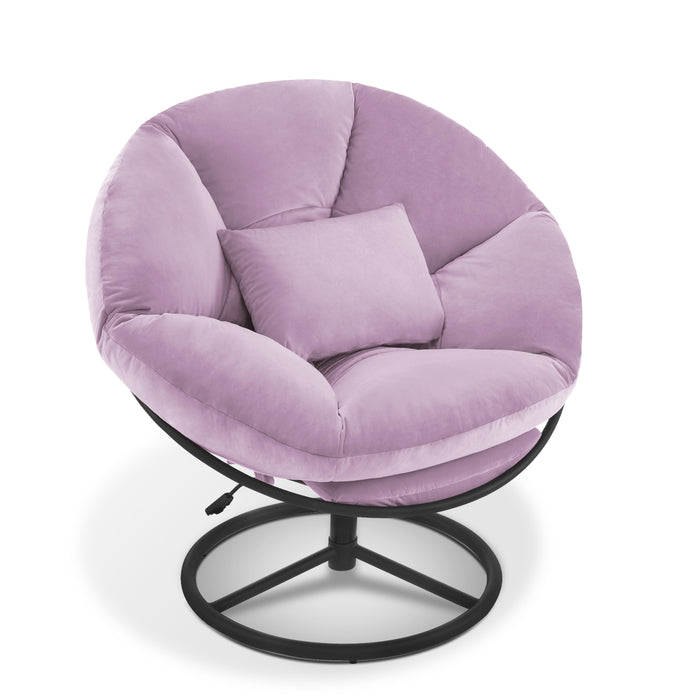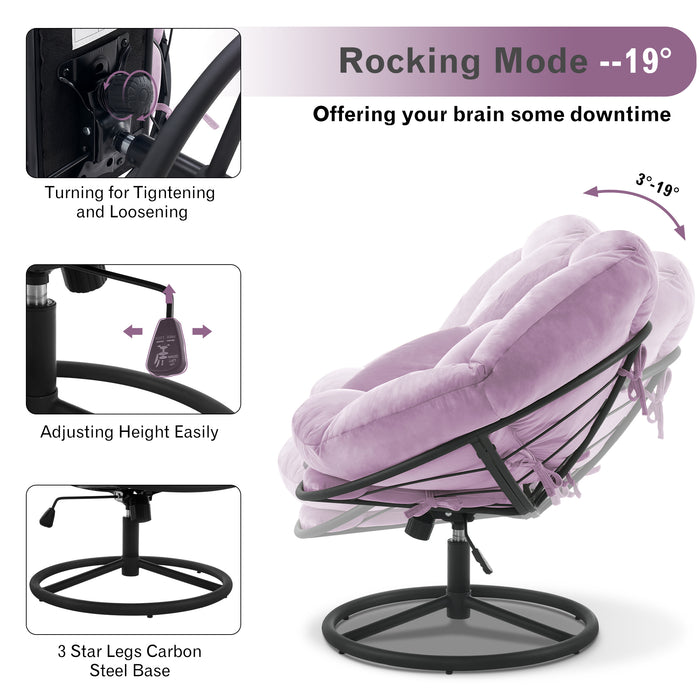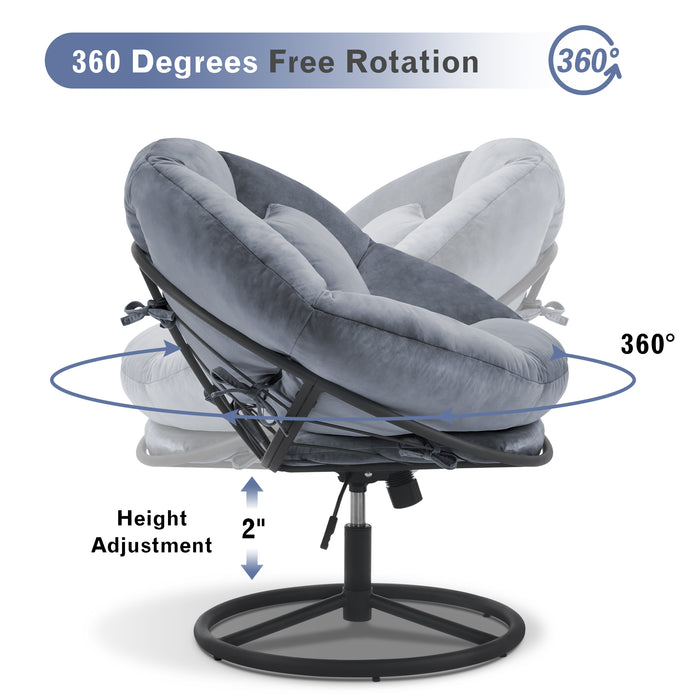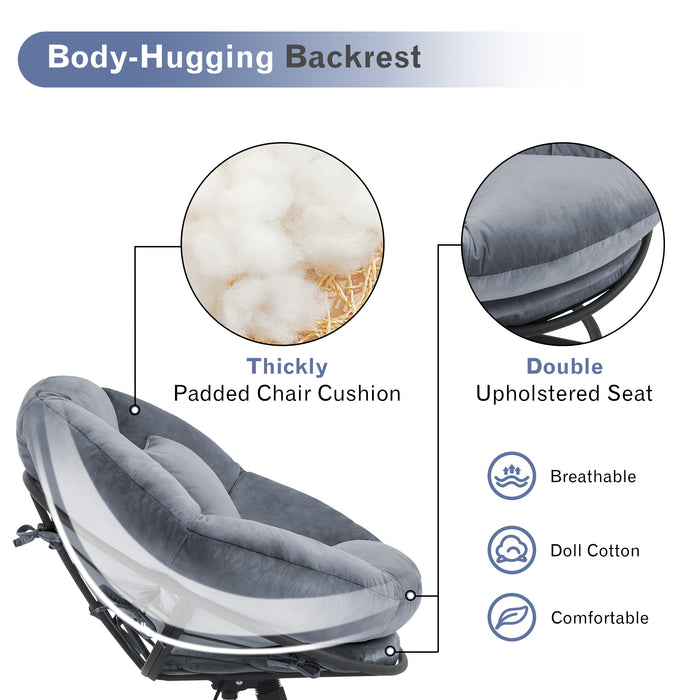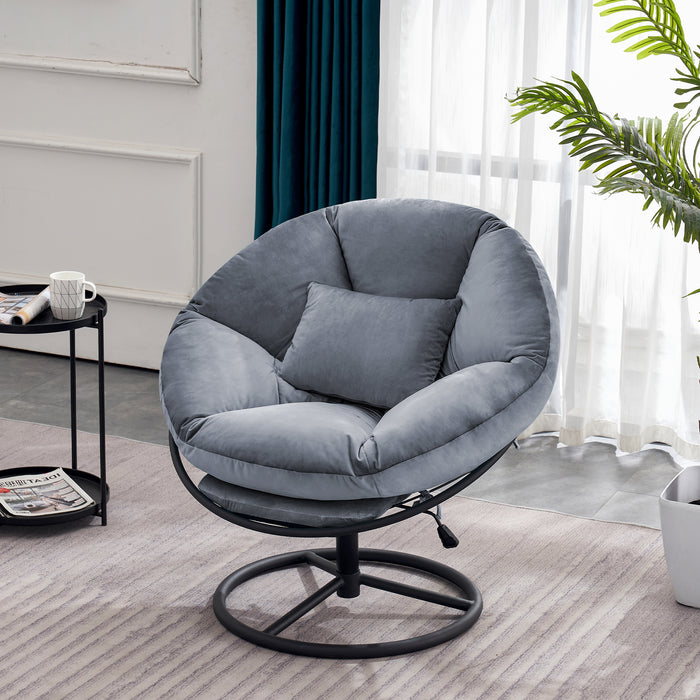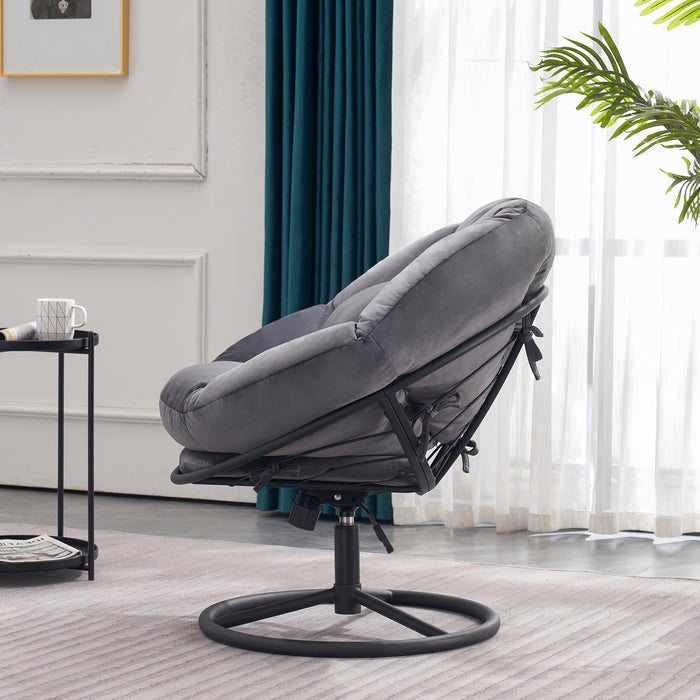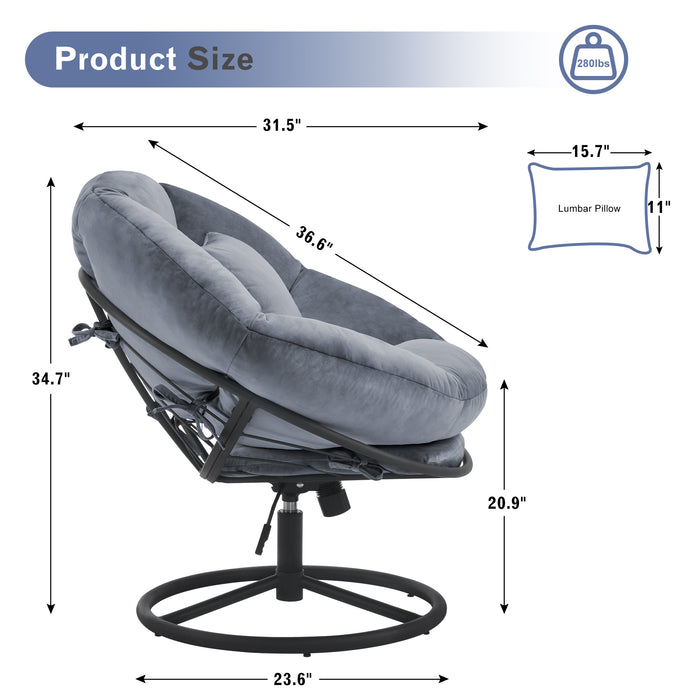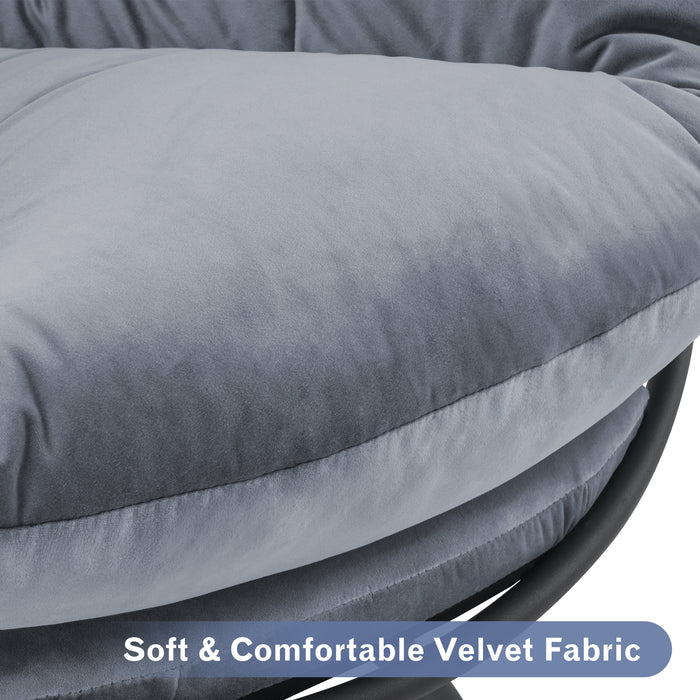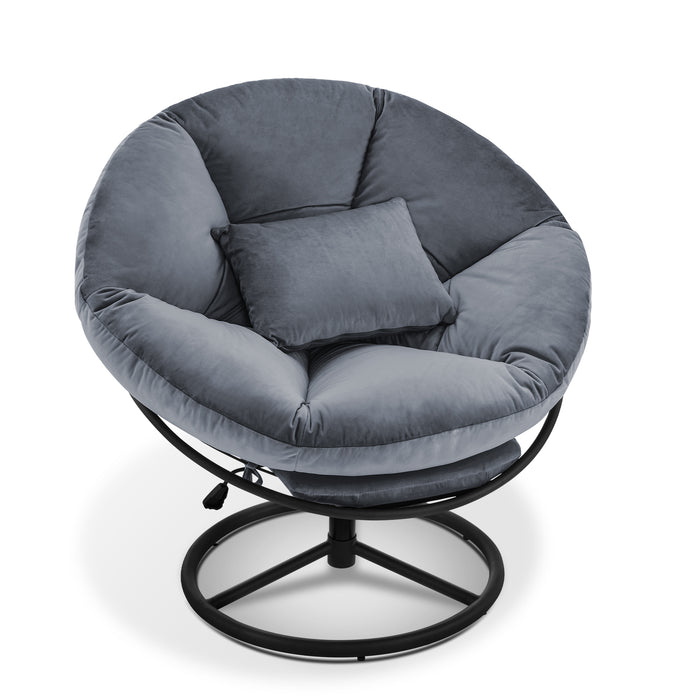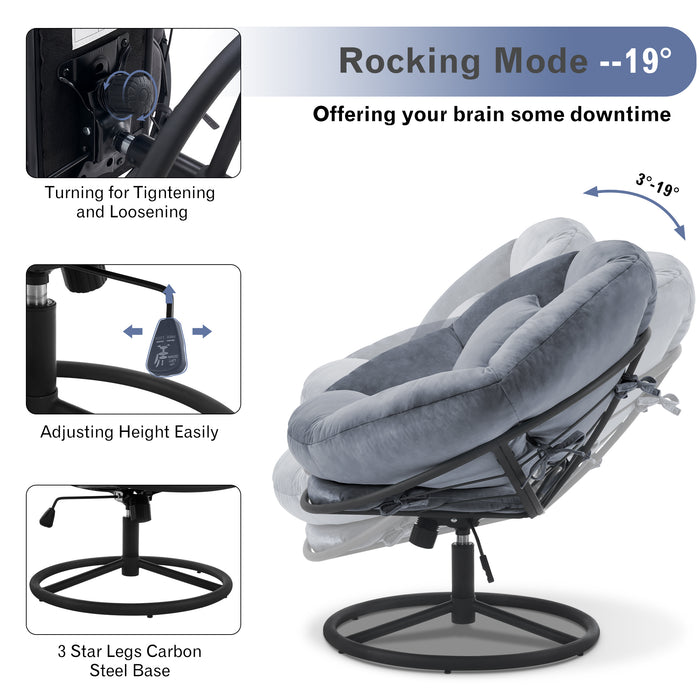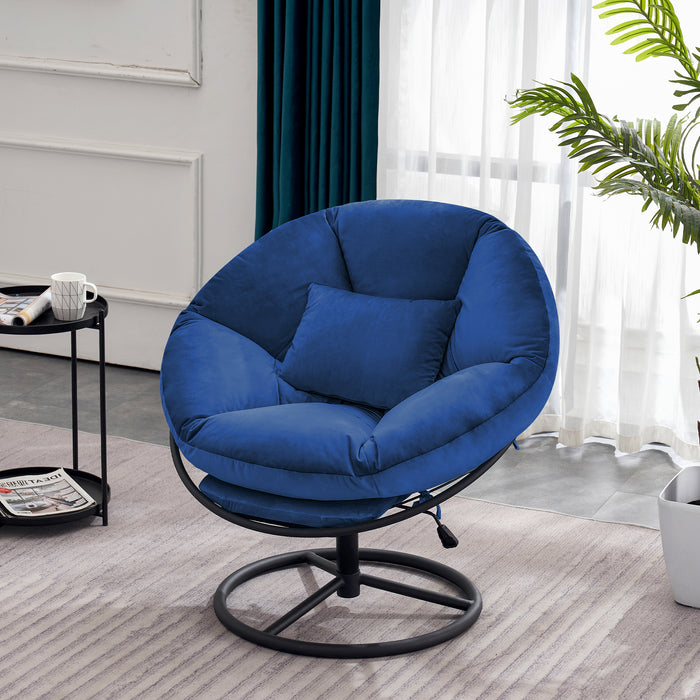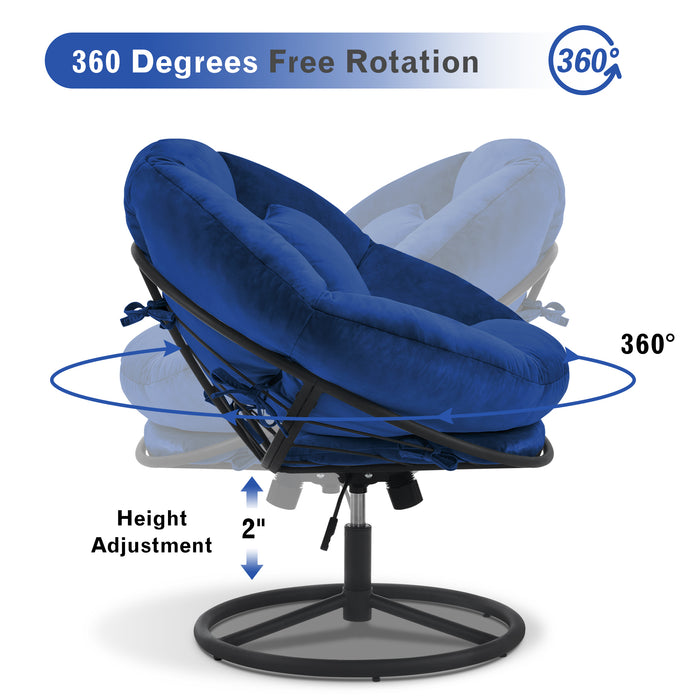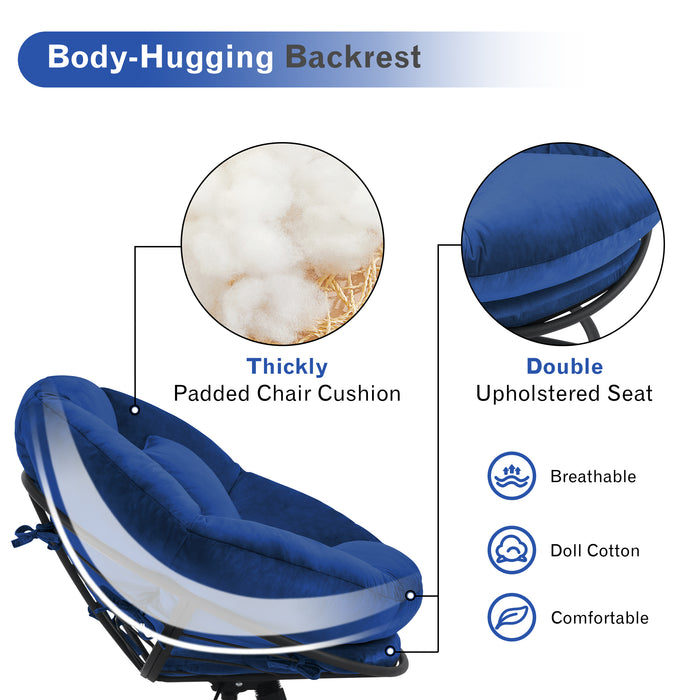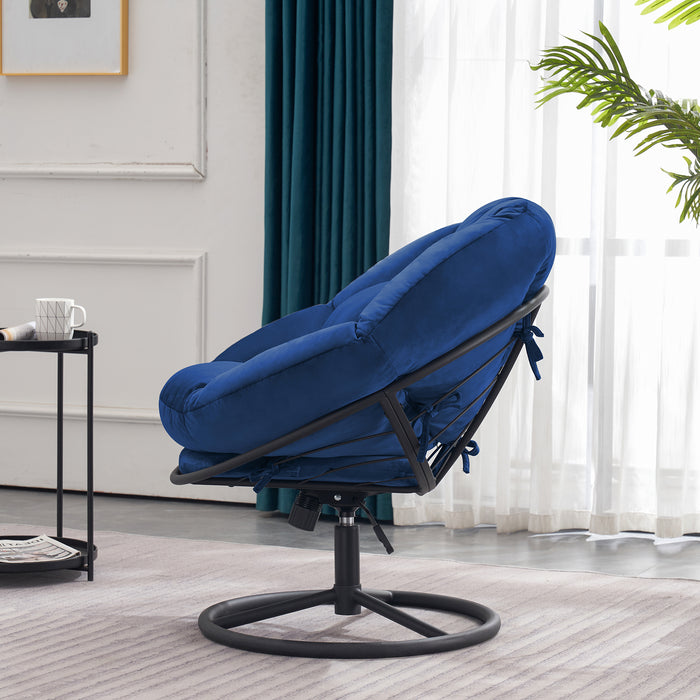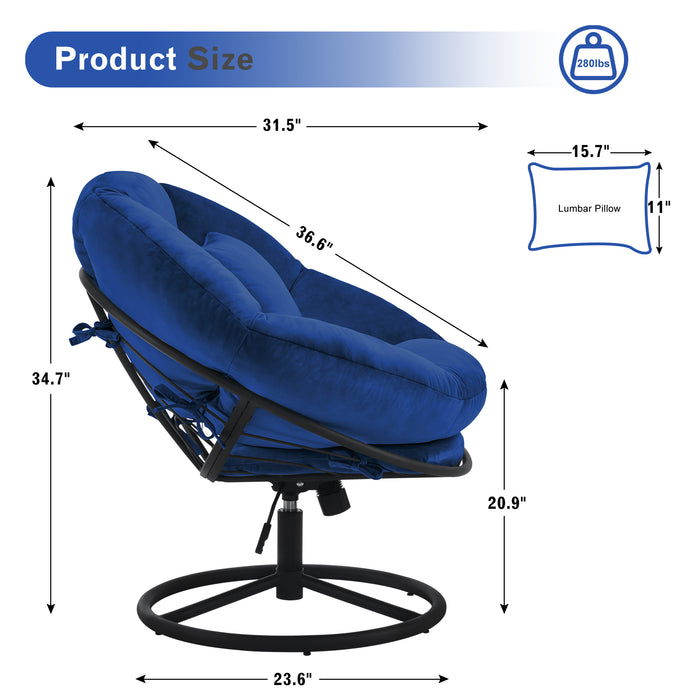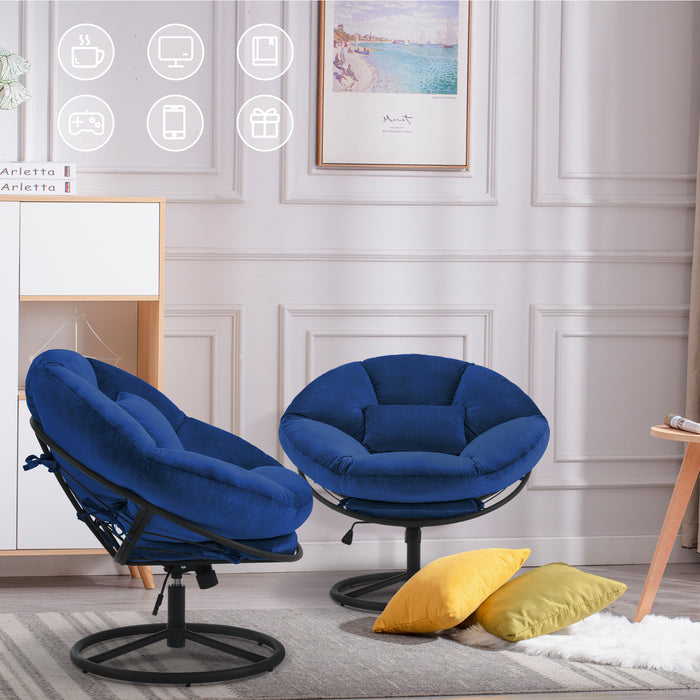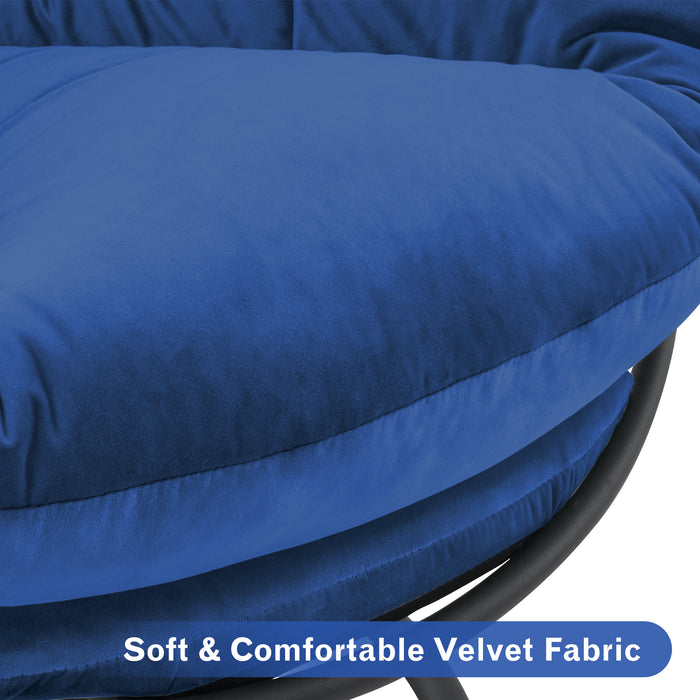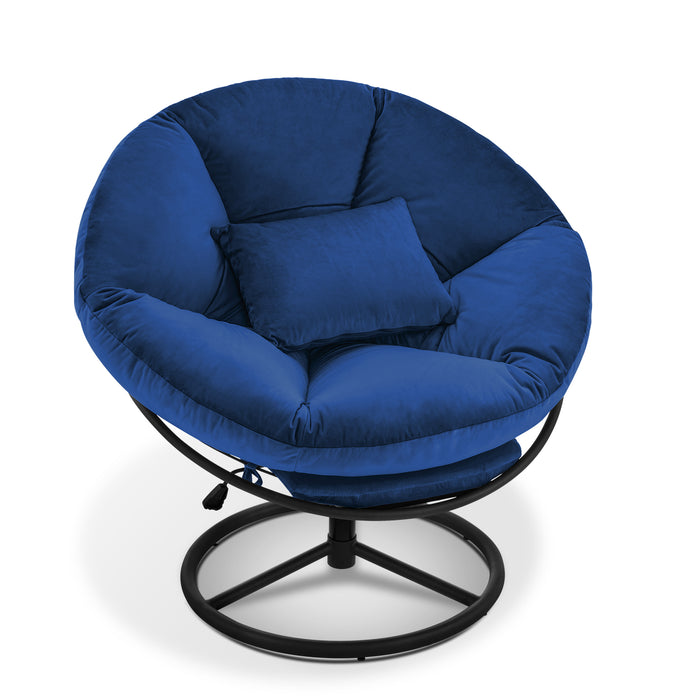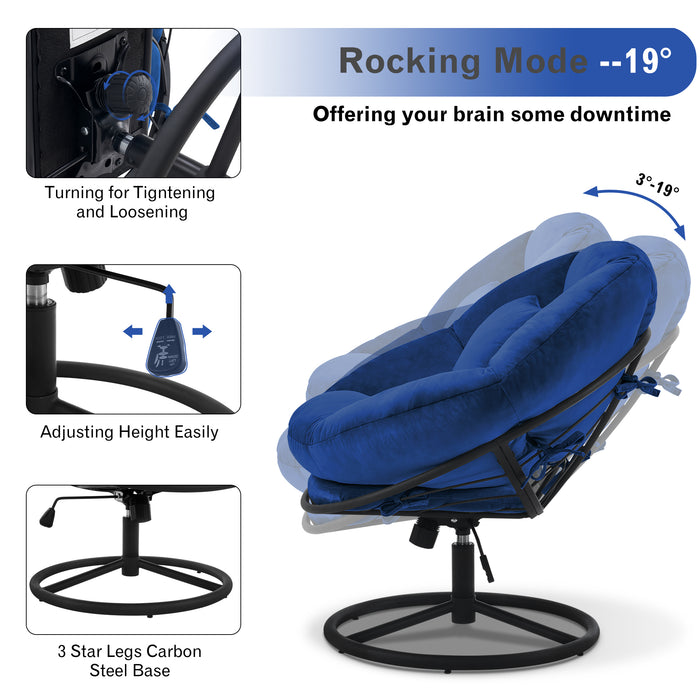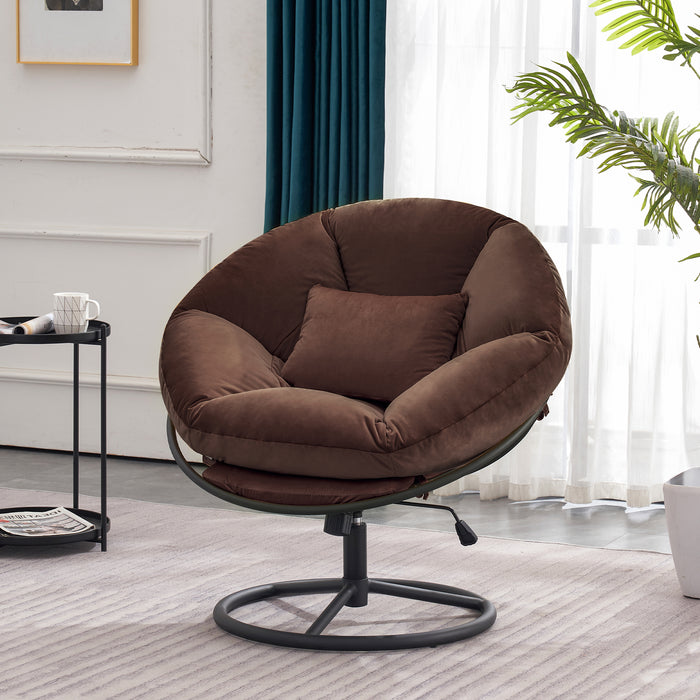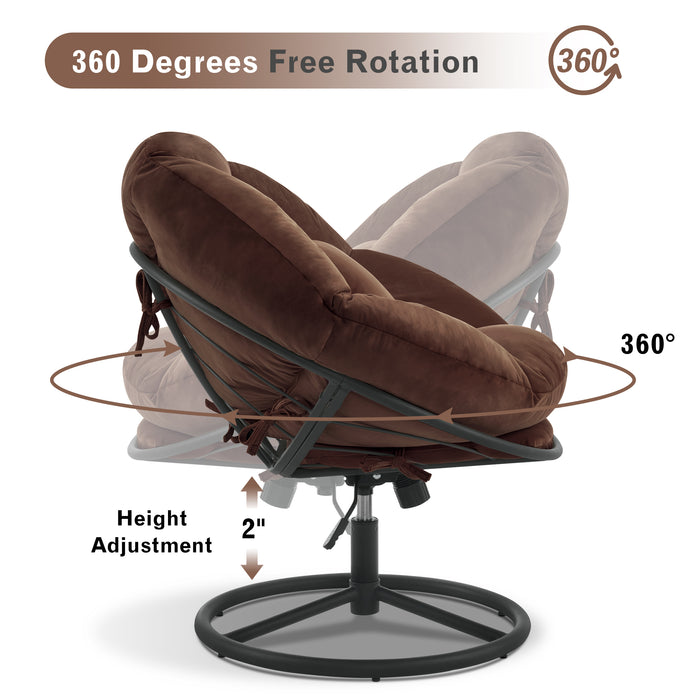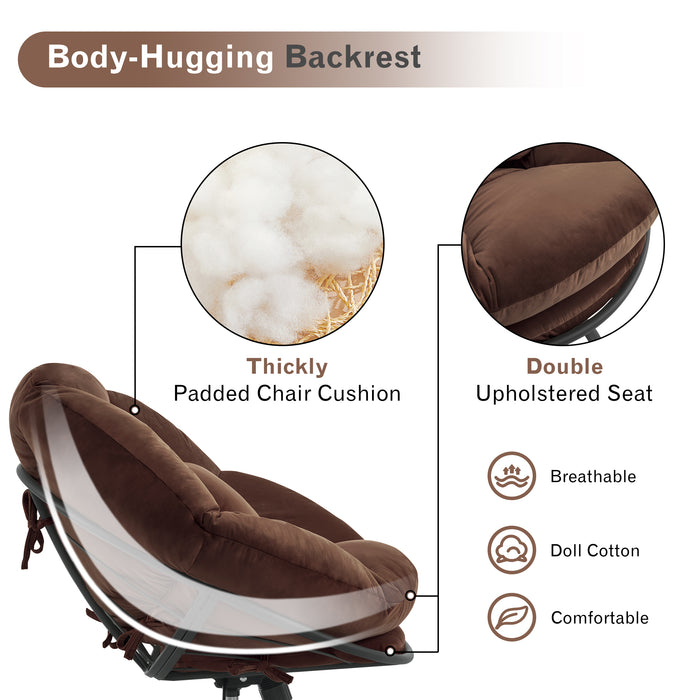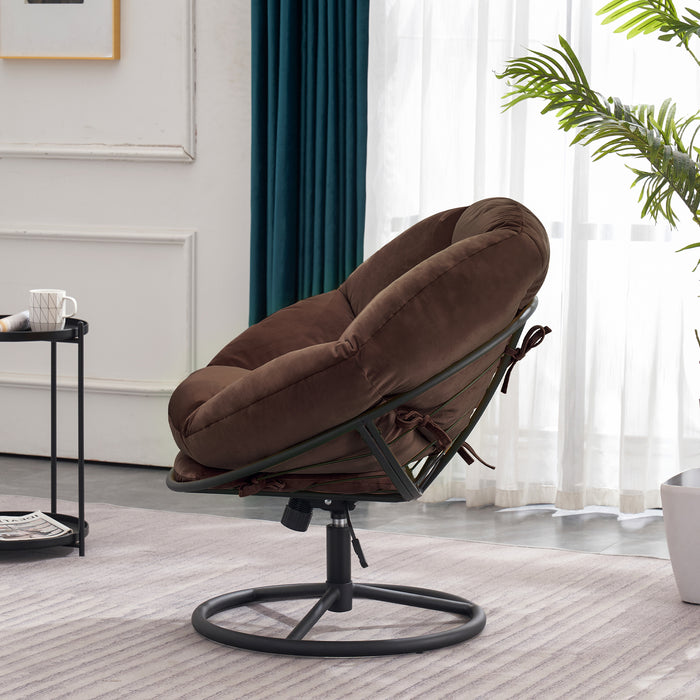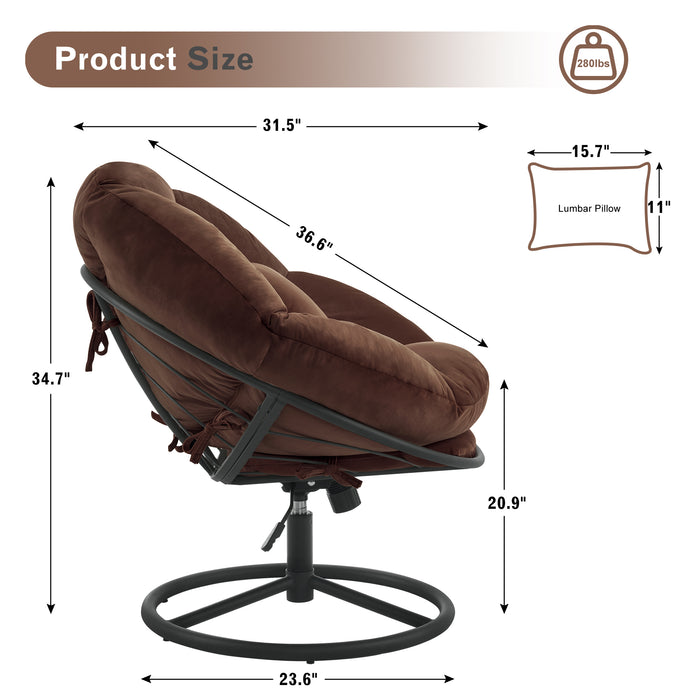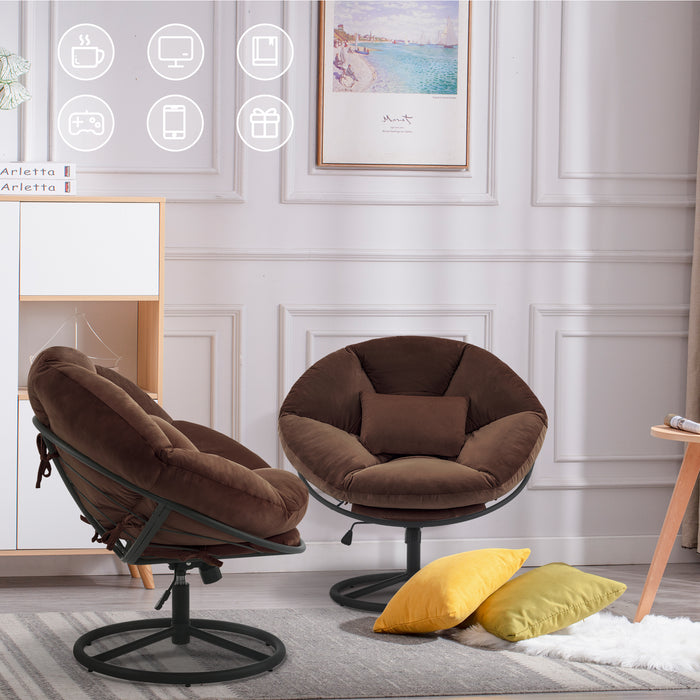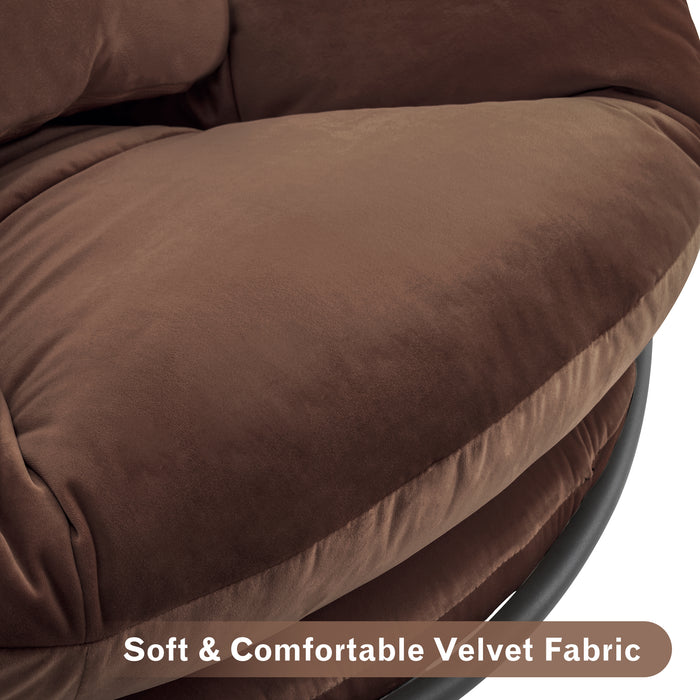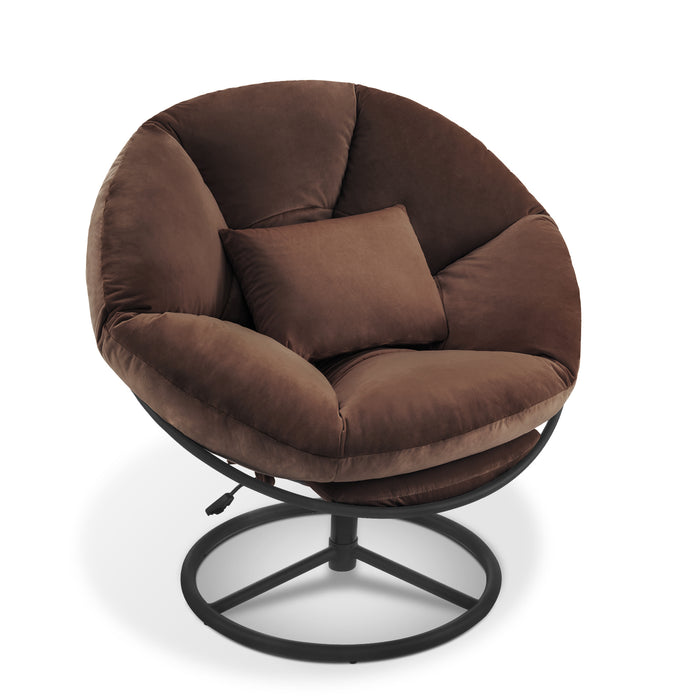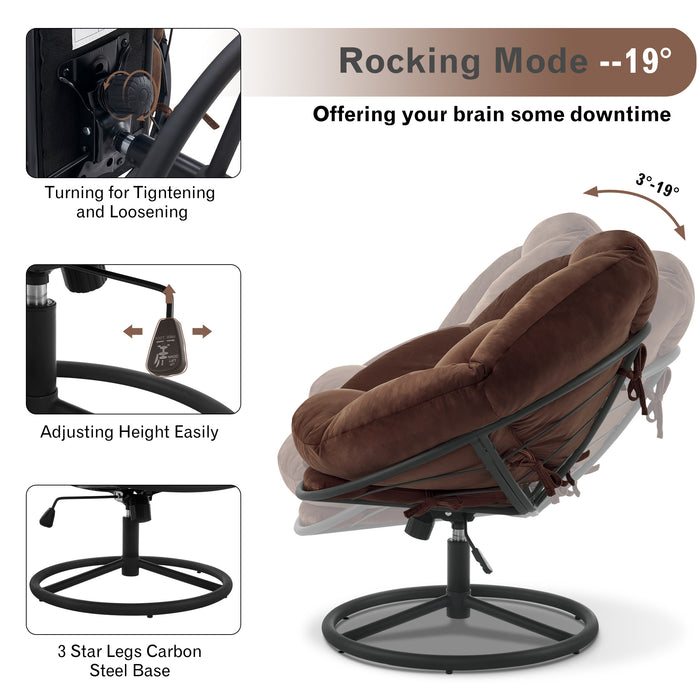 Mcombo Swivel Papasan Chairs, Gas Lift Cozy Chair with Height Adjustment, Velvet Rocking Saucer Chair for Living Room Bedroom HQ405
Main Features of the Product:
[Seat Height Adjusting] - Equipped with a SGS certified pneumatic rod, seat height is adjusted easily from 18.9 inches to 20.9 inches with a smooth hand lever. This moon chair can be used to meet your needs of varying heights.
[Rocking Mode Using] - This dish chair features a rocking mechanism that allows it to swinging back and forth by 19 degrees. When you push in hand lever and stop the rocking mode, the swing of the chair is 3 degrees. It strikes a balance between rocking function and fun, designed to give your brain downtime from heavy work.
[360-Degree Swivel Enjoying]- The spindle of gas lift cylinder helps you spin a full circle on this round chair so that you can enjoy the swivel chair in any direction. This free rotation allows for relaxing, easy conversations or simply lounging with your friends.
[Velvet Wraparound Seating]- The chair bowl design offers a wide and generous seat with an inviting embrace, allowing you to move freely and shift position. Wrapped by soft and skin-friendly velvet, the cushion of 5.9'' thickness is deeply padded, offering you cozy seating and a sink-right-in feel.
[Carbon Steel Frame Supporting] - Built with reinforced carbon steel frame and sturdy base, this radar shaped chair provides an ergonomic and flexible support. Featuring a three-leg heavy-duty round base, it is strong enough to carry about 280 lbs.
[Shopping Experience Care] -
The body-hugging chair bowl with thick cushion allows for all-day comforts. Stable chair base gives you enough sense of security. We believe the function and quality of this circle chair can provide you with a satisfying shopping experience. If you have any questions about this product, please feel free to contact us so that we can assist you immediately.
Why You Will Love It
Multi-function: This lazy chair is multifunctional with rocking mode, rotation feature and adjustable height. You can use any of these functions according to your different needs. 
Convenience: This comfy chair is convenient to move and maintain. Fixed to chair frame with straps design, the chair cushion is removable. You can give an instant fresh face with easily replaced cushions or a colorful toss blanket.
Versatility: Built to be versatile, this multipurpose chair slots easily into both trendy and casual settings. Its design is suitable for a range of environments including living room, bedroom, dorm room, apartment, balcony, lounging, sunroom, reading room, courtyard and so on.
Comfort: The seat part of this disc chair is double-upholstered and the backrest is deep-set. The optional lumbar pillow, also used as a throw pillow, can fully supports your back and waist. We believe this well-cushioned chair is perfect for lingering. 
Safty: The lifting gas lift cylinder, with SGS certification, is safe enough to work. The chair base, constructed with carbon steel, offers you a reassuring sense of stability.
About Mcombo
Mcombo Living Room Chairs are designed to relieve you from heavy work and busy day. We want to help you create a great place to hang out, enjoy peaceful time and add a touch of relaxation to your home.
This papasan chair is developed with multi-function and comfortable seating, in the hope of providing you with convenience and all-day comfort. It is simply the best piece of furniture for relaxing yourselves or simply lounging with your friends. We believe it is a perfect addition to any home.
Item Specification  
Color: Grey/ Yellow/ Light Purple/ Light Green
Material: Doll Cotton + Carbon Steel + Velvet Fabric
Overall Dimension: 36.6"x 31.5"x 32.7''-34.7" (W x D x H)
Adjustable Height:2''
Range of Rocking: 3°-19°
Recommended Weight: 280lbs
Number of Boxes: 1